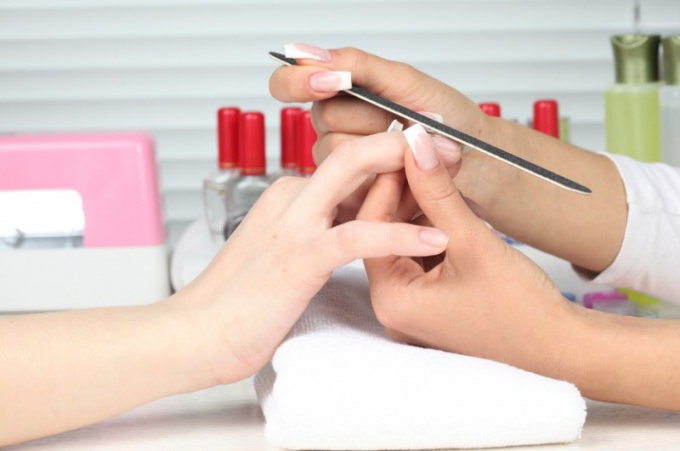 In summer, the skin of hands and nails need special care, which is based on effective moisturizing and protection from ultraviolet rays. In addition, in summer, hands are more likely to come into contact with the earth and sand, which have a very negative effect on the skin and nail plate.
Protect nails can be with the help of special rubber gloves, which must be worn while working in the garden, washing dishes and performing other
domestic
cases. By the way, it's easy to combine work with cosmetic procedures. To do this, apply a restoring cream for hands and nails to the skin and put on cotton gloves, and on top of them, rubber gloves.
Ultraviolet can not only grow old hand skin, but also severely damage the manicure. Bright lacquers in the bulk are defenseless before exposure to sunlight, so in summer they quickly lose saturated color. The modern cosmetic industry offers special coatings that protect the nails from the harmful radiation of the sun, while maintaining a bright color of the varnish.
If you feel that under the influence of sunlight and dust, the skin of your hands dries up and your nails are frayed, lubricate the cuticle with vegetable oils. Strengthening the nail plate is promoted by olive, almond, rose oil, as well as preparations enriched with vitamins A and E. Recently, oils have appeared containing an extract from wheat germs, which perfectly restores the nails and ensures the integrity of the cuticle.
Apply a few drops of oil on the base of the nail plate and gently wipe them into the cuticle with careful circular motions. Repeat this procedure every day, morning and evening, even if the nails are varnished.
Another effective means of restoring the structure of nails is salted sea water. Due to its composition, it is able to improve the nail plate in just two weeks of vacation at sea. Under the influence of sea water, the nails become even, become more transparent, flexible and shiny. However, while staying at sea, it should be remembered that the salt water actively cleanses the nails of useful trace elements, in particular calcium. Therefore, every time after bathing, take a shower and wash the salt off the body.