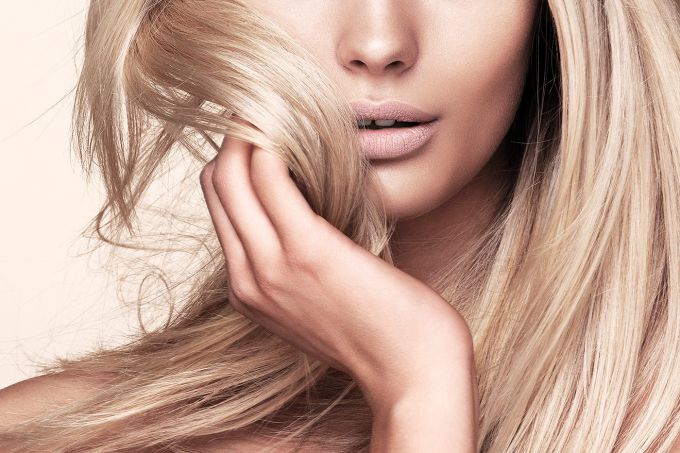 Beauty salons are opening more and more, but bad ecology, frequent stresses, lack of vitamins and improper care lead to the fact that the hair not only begins to lose its shine and attractiveness, but also becomes lifeless and brittle. To help hair regain strength, they need to start to competently woo.
It has become difficult to find women who do not subject their hair to constant interventions, such as staining, perm, use of electrical appliances for styling. To which only many ladies go for beauty. Despite the huge range of hair care products in stores, the problem of spoiled hair is relevant.
But not all is lost. In fact, you can maintain a healthy state of hair, not depriving yourself of the pleasure to change their shades and not denying yourself a new hairstyle. There are a few things that are worth keeping in mind, even when it seems that a short haircut is the only way to salvation.
If you are decolouring the hair at home on your own, the most important thing is to think about what percentage of the oxide you use. If the lightening of the entire length of the hair or only the roots you are accustomed to using a lightening powder, then do not take the oxide above 3%. If you have dark hair, it is better to dilute the powder with oxide 3% twice, than to desaturate by 6% once, and, especially, to 9% and 12%. Remember that hair spoils not a lightening powder, but a high percentage of oxide. The higher the percentage of oxide, the greater the damage to the hair. Powder is best washed with a special shampoo, which is intended for deep cleaning.
When coloring your hair, you should also reconsider your attitude to paints. If you do not have the opportunity or desire to visit the salon and paint yourself at home, then it's better to pay attention to professional dyes. Recently, it is not difficult to acquire such paints. They can be found in any store for hairdressers. The main advantage is that they have a large selection of shades, and most importantly, the ability to pick up the developer oxide yourself. Sellers can advise on all the nuances, but in order to color was not harmful to the structure of the hair, choose those shades of paint that work at a low percentage of the oxide.
A big step on the way to healthy hair is a properly selected shampoo. If the hair often breaks, splits and looks dull, it is best to use shampoo for damaged hair. You need to buy a balm and mask for shampoo. Masks for hair can be used no more than twice a week. You need to use these funds in the following scenario: wash hair with shampoo, the first time to wash away the main pollution and styling products, and the second time that the hair absorbed all its useful properties. After the shampoo, the hair needs to get soaked with a towel to make it glass, then a mask is applied. With a mask you need to walk as much as indicated on the package. This is quite enough. After you wash the mask, you need to get wet again with a towel and apply the balm for a few minutes.
If you want to grow long, after washing your head, it's important to use the means for the tips of your hair. It can be a fluid or a synthetic oil, for example, an argan oil based product. Such cosmetics are aimed at nourishing the ends, protect them from cross-section and fragility.
Wet hair is not recommended for combing. It is better to wait until they are completely dry, and only then gently comb, beginning with the ends. Before this, you need to apply a two-phase spray, which will help moisten the hair, and facilitate combing. The comb should be with rare teeth.
If you are accustomed to using a hairdryer, it is better to abandon the hot air. Use cool air, keeping hair dryer away from the hair. Before applying the frying and ironing, be sure to apply a thermal protective agent on the hair, which can also be purchased at the store for hairdressers.
For hair restoration, including the use of natural masks. One of them is a kefir mask. Kefir has a unique composition. Thanks to kefir fungus, masks based on this product are able to revitalize and restore even the most damaged and brittle hair. Kefir, slightly warmed up in a microwave oven to a warm state, is applied abundantly to the roots and length of the hair. After applying, you need to wear a shower cap and a warm towel on top. It is necessary to walk with a mask for at least one hour. The result is obvious after the first time. Such kefir masks can be done no more often than 2 times a week. With regular use of hair will find a healthy appearance, will become obedient, shiny and strong. But you need to keep in mind that kefir is washing away the color of the paint.