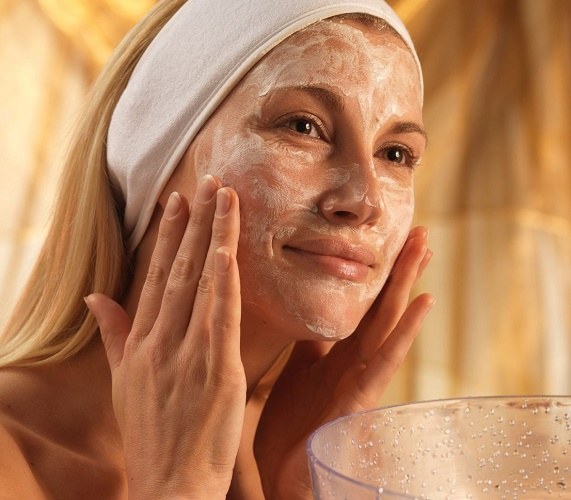 Most often, traces of acne remain in people who have tried to squeeze out acne with the help of squeezing. If you are not satisfied with scars on the skin, uneven tone and groove, you can resort to cosmetology procedures.
Visit to the cosmetologist
Address to the cosmetician that the expert has picked up optimum suitable procedures in your case. A good and gentle effect has retinol. In fact, it is an analogue of vitamin A. The method of application and duration of treatment is determined by a cosmetologist.
If you do not want to wait long, until the skin aligns and get a fresh look, chemical peels will come to the rescue. He has a number of contraindications, so it is not suitable for every person. After the procedure, redness of the skin is possible, which will take place within a few days without a trace.
Ultrasonic and cryotherapy is used in the fight against residual phenomena of acne. Especially effective are procedures for uneven pigmentation and stagnation. They can be performed in beauty parlors, the cost is kept at an acceptable level.
Mechanical facial cleansing will help to remove traces of acne, but it is dangerous to conduct it. After it, some scars can become even more noticeable. It is best to trust the procedure for an experienced beautician. Preliminary look reviews, so as not to make a mistake with the choice.
Fighting post-acne at home
If you do not have time or money to visit a beautician, try to get rid of traces on the face in the home conditions. Start with the application of scrubs, which in addition to the abrasive contain acids. You can buy them in stores. Use strictly according to the instructions that are included.
Honey scrub also helps to remove traces, nourish the skin with useful microelements and improve its appearance. Take 30 g of honey and add to it 5 drops of essential oil of lemon or tea tree. Stir thoroughly, apply by massage movements on the face, avoiding the area around the eyes. Wash with cool water.
After exfoliating procedures, apply a cream with a whitening effect – it will help to smooth out the skin tone in a short time. As a rule, as part of the funds you can see extracts of citrus fruits, parsley juice, etc.
Do not forget to take care of your skin every day. To do this, wash only with special gels, then wipe the face with a tonic and then apply the cream. Choose a product enriched with vitamin supplements.
With regular and proper care, the tone is leveled, small scars disappear, and deeper ones become less noticeable. If nothing helps or you want everything at once, then cosmetology rooms are at your service.