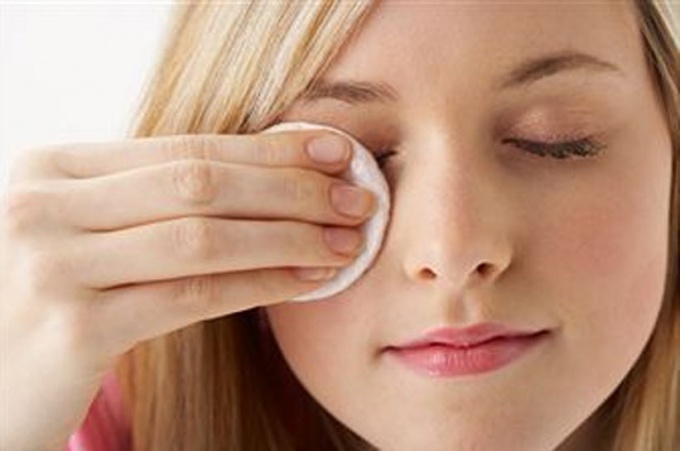 There are times when a woman, when she is about to take off her make-up before going to bed, discovers that the cleansing agents are over. Run into the store late, and the prospect of diligently rubbing my eyes with soap does not please me at all. Remove the makeup from the eyes and save the delicate skin of the eyelids will help simple home beauty recipes.
You will need
– wadded disks and wands
– cream
– Olive, vegetable, Vaseline or castor oil
– milk
– egg
– still mineral water
Instructions
Ordinary sour cream can be found in any refrigerator. Due to its oily texture, sour cream perfectly removes makeup from the eyes, without irritating their mucous. With a teaspoon tip, scoop a little sour cream and put on a cotton pad. Apply to the eyes and gently wipe in the direction from the outer corner to the inside. Wash with warm water.
Was not there sour cream? Take milk and vegetable oil (one teaspoon of butter for 50 ml of milk) and mix well. Use the resulting mixture as a lotion to remove makeup from the eyes.
An excellent remedy for removing even waterproof mascara is raw egg white. This procedure should be carried out in two stages: first, clean the eyelids and eyelashes with a cotton pad soaked in egg white, and then remove the raw material with the help of mineral water without gas.
If there are no shadows on the eyelids, the procedure is simplified. To remove only one carcass, you can use a cotton swab dipped in castor oil. Just gently walk your wand through the lash line several times. Castor oil promotes the growth of eyelashes and it can not be rinsed (unless you are overdone with the amount). Instead of castor, you can use liquid petrolatum or any oil (olive, grape seed oil, etc.).