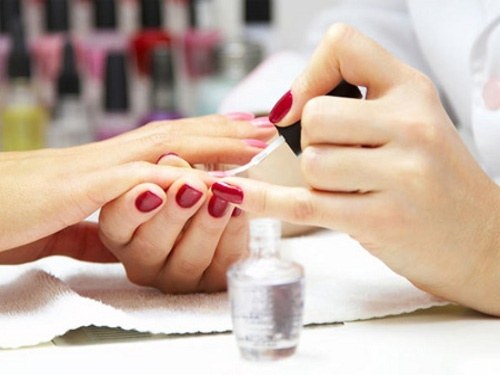 Gel-varnish is a persistent manicure cover that lasts up to four weeks on the nails. It is easy to apply and just shoot. Using acetone for removal, it is worth remembering how aggressive its effect on the skin can be. Persistent manicure using gelLacquer is removed with the aid of a special liquid. The cost of it depends on which brand is applied gel-lacquer. Unfortunately, it is not always possible to purchase a special solution. To remove the gel-lacquer yourself at home, you can use acetone.
Removal technology
In order not to spoil natural nails, it is necessary to carefully prepare for the procedure. In addition to acetone, you will need:
– food foil;
– orange sticks;
– cotton wool or cotton wool;
– Greasy cream;
– grinding buff;
– nail strengthener;
– cuticle oil.
Acetone is a fairly aggressive substance. To remove gel-lacquer, pure acetone can be diluted with water (two parts of acetone – one part of water). You can also use a liquid for removing varnish with acetone. It must first be heated in a water bath.
Move the cuticle with an orange stick. Apply a cream on the skin around the nails. Moisten wadded disks in acetone or nail polish remover with acetone, place them on the nail plates. Try not to touch the skin. Cover your fingers with foil to make the reaction go faster.
After ten minutes, remove the foil and cotton pad from the finger, which was wrapped first. If the gel-varnish has become soft, then wipe it gently with cotton wool or clean with an orange stick. If the material does not lend itself, it does not need to be pulled and pinched. Such sharp movements can disrupt the upper epithelium of the nail plate. If gel-lacquer has softened, again wrap it with a cotton pad with acetone and foil.
After all the nails have been removed, carefully polish the nail plates. Apply the fixer for natural nails, rub the oil into the cuticle. It is recommended several days to refrain from color manicure or applying an artificial coating.
Errors and their consequences
If you do not apply a greasy cream on the skin around the nails, if the risk of getting a burn even from dilute acetone. It is recommended to cut out small cotton triangles from the cotton buds, which completely cover the nail plate, but do not affect the skin at the same time.
It is not recommended to remove the cuticle before removing the gel-varnish, since acetone can get into the matrix (the root of the nail), which will negatively affect the growth and condition of the entire nail plate. Cuticle is best removed, and then carefully processed with oil to restore and improve.