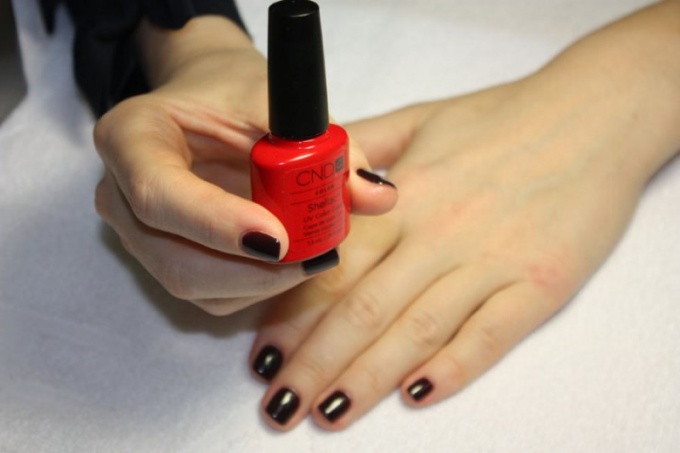 Lak-gel, giving a stable coating, capable of without chips and scratches last for three weeks, can be applied in the cabin. The agent solidifies under the lamp, forming a mirror-resistant film. To remove it, do not necessarily contact the master. Shellac or its analogs can be removed at home using a nail polish remover, foil and a set of orange tree sticks.
How to remove gel-lacquer
To withdraw shellac You will need a nail polish remover, wadded disks or lint-free napkins, foil and orange tree sticks. It is not necessary to buy branded liquid from the manufacturer of shellac – you can remove the resistant polymer film by the usual means from the supermarket.
You can use a liquid to remove varnish with or without acetone. Do not buy a liquid with the addition of oils – it acts too gently and poorly dissolves the resistant coating.
To level the surface of nails, store a buffing buff, and the length of the restoration of the plates will need a cream, nourishing wax or oil. Take time – the process removal of shellac long enough – the tool must first be softened, and only then removed. After completing the washing-off of the gel, you can apply a new shade – persistent manicure does not harm nails.
Remove shellac: home features
Prepare everything you need in advance. Saturate padded disks with nail polish remover and wrap them with fingertips. On top wind the strips of foil so that they form "caps". Sit 10-20 minutes – during this time the coating will become soft. Check the degree of softening by unfolding the compress on one finger. If the varnish remains firm, wait a little longer.
Снимите фольгу, возьмите палочку из апельсинового дерева и аккуратно соскоблите лак с ногтя, двигаясь от кутикулы к кончику. Действуйте широким скошенным концом палочки и не давите слишком сильно, чтобы не травмировать пластины. Когда палочка станет слишком мягкой, замените ее на новую. Остатки шеллака стирайте влажной безворсовой салфеткой. Не соскребайте лак металлическими инструментами – они могут травмировать пластины.
After handling all fingers, rinse them with warm water, soak with a towel. Then align the surface of the nails with a polishing bar – this procedure will give the plates a healthy color and shine, remove the furrows and peeling flakes. Saw each nail no longer than 10 seconds, processing it from all sides.
If your nails are too soft, exclude the polishing procedure.
An important condition of home manicure is the restoration of plates. Rub in them oil, wax or a cream for nails. This will strengthen the stratum corneum, improve the nails and make them stronger. You can apply a new coating in half an hour, but it is better to let the nails rest and make them up the next day.