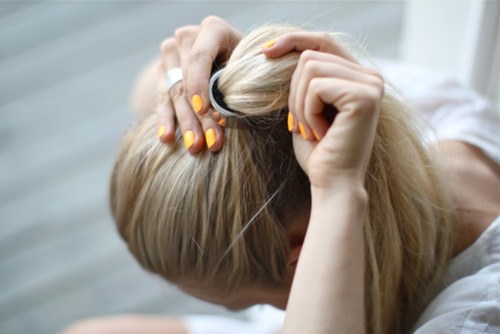 Complex styling of tight locks and weaves of braids and waves is an excellent option for competitive podiums. But in ordinary life they look too pretentious. In addition, the creation of such creations of hairdressing art takes too much time. Learn how to quickly make original styling with a minimum of improvised tools.
You will need
– Shampoo;
– Moisturizing conditioner;
– hairdryer;
– Spray for styling;
– means for a hot wave;
– curling tongs;
– hair clips;
– studs;
– beads and ribbons;
– A small handkerchief.
Instructions
Before packing, wash your hair and treat it with a moisturizing conditioner. Do not apply the product to the roots of the hair, otherwise the strands will become too heavy, and the volume will not be achieved. Do not abuse styling products – fast hairstyles should look easy and slightly careless.
For a date or a party, a hairstyle from carelessly chosen curls will do. Wet hair after washing, dry under a warm air stream from the hair dryer, lifting and squeezing strands with your free hand. Use your fingers like a comb. As a result, you will get a shock of slightly tangled volume curls.
Collect the loose ends of the hair in one hand and tighten them on the back of the head, fastening a large barrette. Start your fingers in
hairstyle
and lightly flip it so that it looks a little careless. Carefully pull a few thin strands. Apply them not spray for styling and wind curls on the finger. Hold on longer – this way of curling perfectly fixes the curl.
Owners of long hair can try a hairstyle in the actual style of hippy chic. Treat dry strands with hot styling and force them onto spiral forceps. Let the hair cool down and lightly beat the curls with your fingers, creating an artistic mess on your head. From above, smooth the hair with a large brush. At the person plait a few thin plaits and weave in them beads, colored ribbons or thin laces.
For a party or a walk, the original lavish styling will do. Wet hair after washing, air dry, squeezing and combing the strands with your fingers. Collect the locks on the back of the head, moving them slightly sideways, twisting into a bundle, tuck them in a bundle and fasten with a flat barrette. Fold a small scarf made of cotton or silk, selected in the color of the outfit, wrap a bundle and attach the fabric to the hair with the help of pins. Do not tighten the kerchief assembly – it should look airy and at ease.