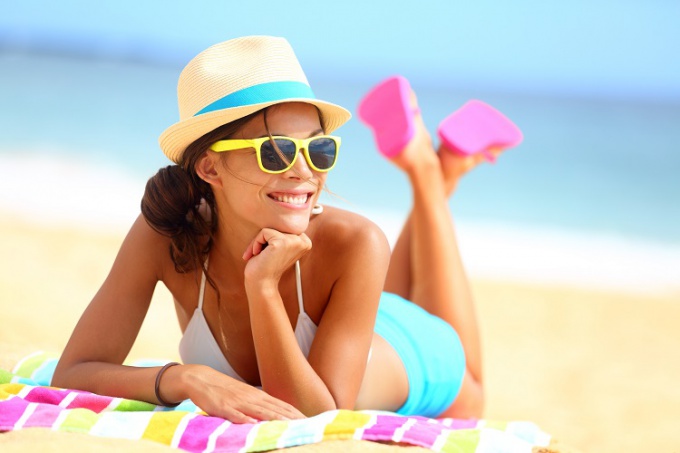 Summer is a period of long-awaited holidays, but quite often rest can overshadow the consequences of being in the sun. But, if you follow certain recommendations, the negative effects of sunlight can be avoided. So, what can you do to protect yourself as much as possible?
Going on vacation, especially if your plans include staying by a pond or just an active holiday in nature, do not forget to buy an easy hat. If your skin is prone to pigmentation, then it is advisable to choose a hat with wide margins. The headgear must be worn whenever you go out into the street, regardless of whether it's morning or noon sun.
It is also important to stock up with funds to protect the skin from the negative effects of sunlight. Emulsions, protective creams and other are recommended to buy in pharmacies. When choosing a protective device, first of all pay attention to the index of protection (SPF). The larger the number, the more reliable your skin will be protected.
The purchase of a protective device does not mean that now you can not leave the beach and sunbathe all day long. In the midday, you better refrain from staying in the sun, because during this period you will not be protected even by the most expensive and high quality sunscreen.
If you have problems with eyesight, you can not do without sunglasses. Choose glasses not in fashion stores that sell stylish and fashionable consumer goods, but in specialized optics stores, only so you can protect your eyes. Sunglasses are recommended not only for people who have vision problems, but also for everyone to protect and preserve their eyes.
During sun exposure, it is very important to drink as much liquid as possible. It is best to use purified water, green and white tea for these purposes. In the summer heat, the liquid is rapidly excreted from the body, and so that you do not suffer from dehydration and do no harm to your health, always carry a small bottle with a soft drink or water.