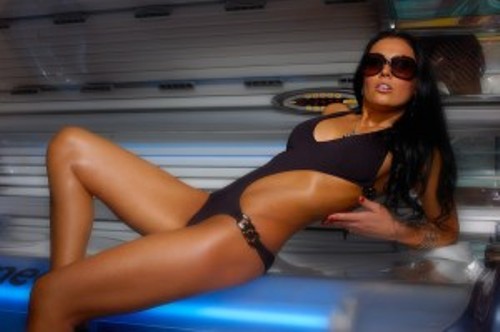 Almost every female representative dreams of beautiful, tanned skin throughout the year. There are many ways to purchase swarty skin color – tanning salves, body creams with the effect of sunburn, etc. However, the most effective and fastest way to get a tan is a solarium.
To sunbathe in a tanning salon without harm to the body, one should adhere to simple rules.
The most important rule is moderation. In the solarium, the intensity of ultraviolet is much stronger than in the open air. The solarium should be walked every other day, for two weeks.
Excessive trips to the solarium can adversely affect your skin, which can lead to early aging of the skin. Therefore, you need to sunbathe no more than 15 minutes at a time, and preferably 10 minutes.
For proper sunbathing in the solarium, it is also recommended to make a preliminary whole body peeling. Exfoliate the skin two days before the first visit to the solarium.
Many like to sunbathe naked. But it's better to get sunbathing in panties, so that the genitals are not affected, and on the chest you need to paste special reflective stickers, they are sold in each solarium.
Before beginning the session in the solarium, take off all the jewelry. On the body, nothing should remain.
Pay special attention to your health. If you are taking a course of treatment and are taking any medications, check with your doctor in advance.
Do not forget to wear special protective goggles. It is better to buy your glasses for a solarium. Take care of your eyes.
The skin should also be taken care of. Before the session, spread the skin with a special sunblock. After the tanning, lubricate the skin with a moisturizer after sunbathing.
It is not recommended to combine stay in the open sun and visit the solarium. As a rule, they go to the solarium to prepare the skin to stay in the sun.