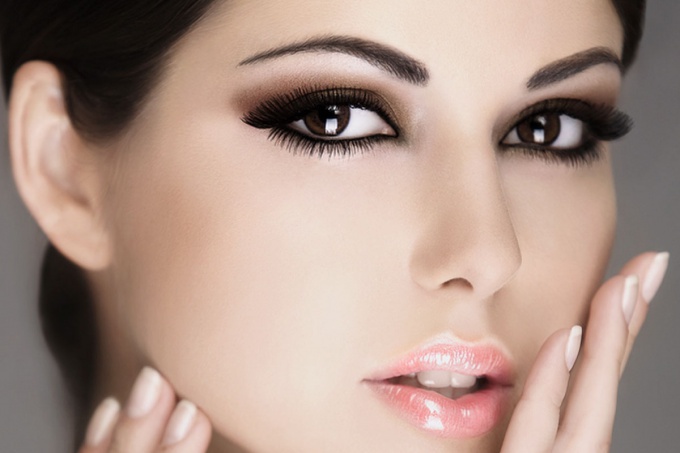 Eyebrows are considered a characteristic line on the person's face. You can not call makeup successful if they are not well-groomed. Not every woman was rewarded with symmetrical, thick eyebrows. But mistakes can easily be corrected with the help of some make-up.
To begin with, you should comb your brows with a brush and determine their beginning, bend and end. To comb it is necessary on growth of hair. Special white pencil to determine the future shape, and crawling out of the side of the hairs to pull out with tweezers. Pencil should be brought under and above the eyebrow, so that previously asymmetrical forms approach the symmetrical ones. Do this with neat, short dashed lines to avoid their clarity. Then, if necessary, you can cut your eyebrows.
Eye shadow for eyebrows should be chosen neatly, they should match the color of the hair, be on tone darker or lighter. It is better to choose additional shadows to the main shadows, but they should be tone lighter. They can be tinted head of eyebrows. Eyebrows with a clearly colored head look screaming and even pretentious.
Then, using the brush, you need to fill the space between two stripes of the pencil with the shadows. It is necessary to make a smooth transition between the areas of the beginning of the eyebrow and its continuation. Gently paint over the tail, its clarity should also be avoided. Next, you should comb your eyebrows and fix the shadows with special wax.
To finish the make-up of the eyebrows, you can do the following: shade the white areas of the pencil and, if necessary, apply powder on the areas behind a white pencil, suitable for color.