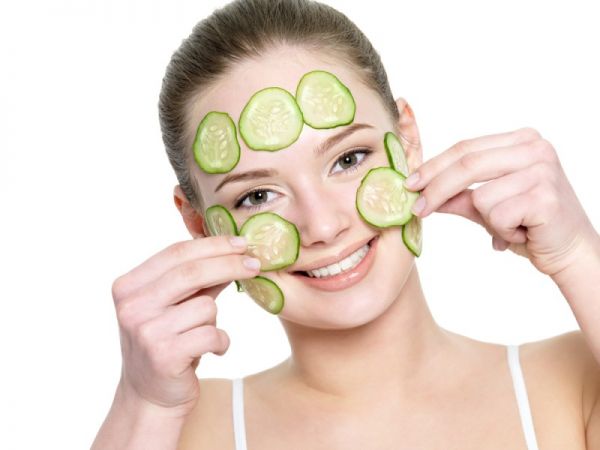 This is a very exciting and useful lesson – to make skin care lotions alone. Many recipes are quite complex, but the reward for the effort will be a unique natural product, in which quality you are sure at 100%. All lotions, after preparation, it is desirable to pour into a bottle of dark glass and store in the refrigerator. Lotions that contain alcohol components can be stored for up to six months.
Французский лимонно-огуречный лосьон
Cut into small pieces of one large lemon along with the crust and three large fresh cucumbers. Pass through a meat grinder or grind with a blender. The resulting mass is transferred to a dark glass bottle with ground glass stopper, pour a glass (200 ml) of vodka, well cork and insist in a dark place for 20 days. The bottle should be shaken every day.
On the 20 day, the mixture is filtered, pour half a glass (100 ml) of camphor alcohol, pour the resulting lotion into a clean bottle. In a separate bowl, carefully rinse the yolks of three eggs and a tablespoon of liquid honey. Pour into a bottle of lotion in small portions, each time shaking the contents. This lotion perfectly nourishes and tones up the face skin of all types of fat.
Ancient watermelon lotion "Astrakhan lady"
Pullet a very ripe watermelon cut into small pieces, put in a glass bowl and mash with a wooden tolstick. Allow the mass to settle for 30-40 minutes, then squeeze the juice through the gauze. To prepare the lotion, you will need 2 glass of watermelon juice, which you need to pour into a dark glass bottle, add there a tablespoon of salt and liquid honey. Close the bottle tightly and shake the mixture until the salt completely dissolves. After that, the liquid must be filtered again, pour a glass of vodka, mix and pour into a clean bottle. Similarly, a lotion is made from grape juice. Lotion "Astrakhan lady" cleans, nourishes and moisturizes the skin, suitable for all types.
Orange lotion for oily skin
Orange with peel grate on a large grater or grind with a blender. Transfer the mixture into a dark glass container, pour half a glass of vodka, close the lid and insist in a dark place at room temperature for a week. At the end of this period, filter the liquid, pour 1 teaspoon of glycerin, mix and pour into a clean bottle with a tight fitting lid.
Mint lotion for oily skin
In a glass or enameled pan, fill with 2 tablespoons of dried herb peppermint and 1 tablespoon of dried herb horsetail, pour in 0,5 liters of boiling water and then boil the mixture over low heat for 10 minutes. Strain the broth, add 5 teaspoons of boric alcohol and 1 a teaspoon of apple cider vinegar (can be replaced with lemon juice). Once again, filter and pour into a clean bottle.
Lotion of aloe leaves against skin inflammation and acne
Collect 150 gram of fleshy aloe leaves from the lower tier of the plant, place them in a plastic bag and clean for 5 days in the refrigerator to activate the beneficial properties. Then rinse, dry, finely chop with a knife or grind with a blender. Transfer to glassware and pour half a glass of vodka, so that it covers the crushed leaves. Infuse in a dark place for a week, then strain and squeeze the liquid through the cheesecloth. This lotion needs to wipe the problem spots on the skin of the face 2-3 times a day.
Balkan lotion for the prevention of wrinkles and fading of the skin of the face
In a glass jar, fill up 2 tablespoons of chamomile flowers and 2 teaspoons of peppermint and rosemary. Add 10 aspirin tablets powdered into the powder. Pour all 0,5 liters of dry white wine, close the lid tightly and insist for two weeks in a dark cool place. Strain, filter, pour into a clean container. Lotion wipe the skin of the face 2 times a day for a month. Then take a break for a week, after which the course of treatment can be repeated.