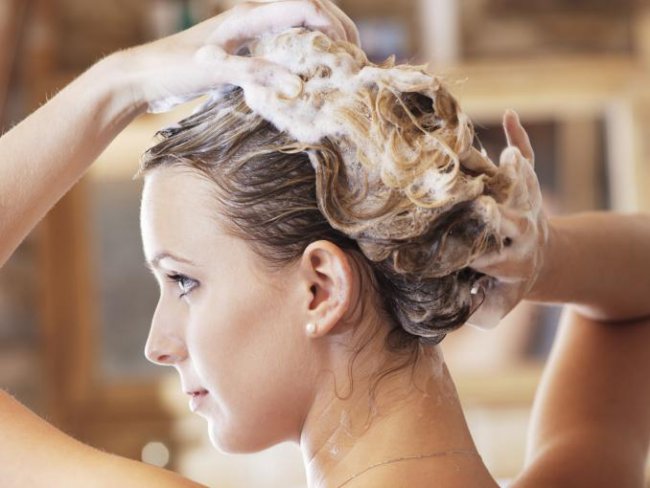 Not always in the store you can buy a quality shampoo for oily hair. Many products add fragrances and preservatives that are dangerous to the scalp. A safe and healthy shampoo is easy to make at home. It is easy to prepare, environmentally friendly and affordable. All components are inexpensive, they can be purchased at any store.
Home shampoo is prepared on an ad-hoc basis, which is sold in a pharmacy. This remedy does not cause allergies; its composition does not include fragrances and dyes. To the basis add decoctions of herbs, aloe juice, essential oils, lemon juice, etc.
To make the shampoo, the base is heated to 30-40 degrees, add a few drops of essential oil or 3 tsp. broth, the mixture is stirred and allowed to cool. The product is poured into a jar or bottle, stored no longer than 10 days.
Shampoo from vodka and almond oil
This product will qualitatively clean the hair, relieve fatty gloss and the need to carry out the procedure on a daily basis. It will take 20 ml of vodka, 50 ml of lemon juice, 15 ml of almond oil and 1 yolk. The components are mixed, applied to damp hair or poured into a storage bottle.
Shampoo is also prepared with another alcoholic beverage – cognac. 100 g alcohol mixed with yolk and 4 tbsp. water. The agent is rubbed into the hair and left for 5 minutes.
Shampoo from mustard
Mustard shampoo will relieve fat shine and accelerate the growth of hair. To do this, you only need 1 liter of water and ? tbsp. l. powder of mustard. The powder is diluted in a liquid and immediately rubbed into the hair for 5 minutes.
You can also make a means for oily hair from mustard and mineral water, taking these components in the same amount. After using this remedy, the hair is rinsed with a decoction of chamomile or nettle. Mustard can also be mixed with rye bread soaked in water. This product is qualitatively combating pollution and greasy shine, restores the structure of the hair.
To keep the hair fresh and clean for a long time, broths of burdock, nettle and marigold, essential oils of lavender, lemon, tea tree, ylang-ylang, eucalyptus, rosemary can be added to the shampoo.