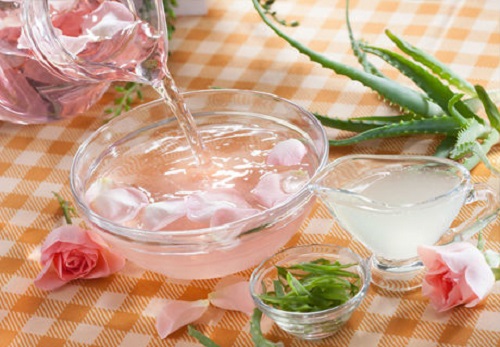 Tonic for the face allows you to cleanse the skin, narrow the pores and eliminate excess sebum. Justifying their name, they perfectly tone up the skin and help cope with inflammatory processes. The following are 10 recipes for preparing tonics for the face with your own hands.
Tonic with mint
1 liter of water
a handful of mint leaves
Boil water and add mint leaves. Cook over low heat for 10 minutes. Strain the liquid and allow to cool. Wipe the face with a cotton swab. Keep refrigerated.
Tonic with camphor and rose water
1 bottle of rose water
pinch of camphor
Mix well the pink water and camphor. This tonic is applied several times a day for the treatment of acne.
Tonic with lime and tomato juice
a few drops of lime juice
a teaspoon of tomato juice
Mix lemon juice with tomato juice. Tonic narrows the dilated pores of the face.
Tonic with green tea
green tea leaves
1 glass of water
Brew the leaves of green tea in boiling water. When cool, use to cleanse and soften the skin.
Tonic with chamomile
1 tea bag of chamomile
1 glass of water
Fill the tea bag with hot water and leave for 5-10 minutes for brewing.
Tonic with vinegar and rose water
1 spoon of vinegar
1 spoon of rose water
Mix the vinegar and the rose water. Tonic is suitable for oily skin.
Tonic with cucumber and vinegar
juice 1 cucumber
? cup unfiltered apple cider vinegar
Mix the cucumber juice with apple cider vinegar. Tonic makes the skin radiant.
Pure coconut water
All you need to do is wipe your face with pure coconut water. This tonic is suitable for all skin types. He relieves dark spots on the skin and nourishes it.
Tonic for normal to dry skin
1 drop of essential oil of geranium
1 drop of essential oil of chamomile
100 ml Rose Water
Mix essential oils and rose water. Use as a tonic for normal to dry skin.
Tonic for oily skin
6 drops of lavender essential oil
4 drops of tea tree oil
3 drops of sandalwood oil
50 ml of distilled water
Mix the oils and distilled water. Keep the tonic in a bottle. Shake well before use.