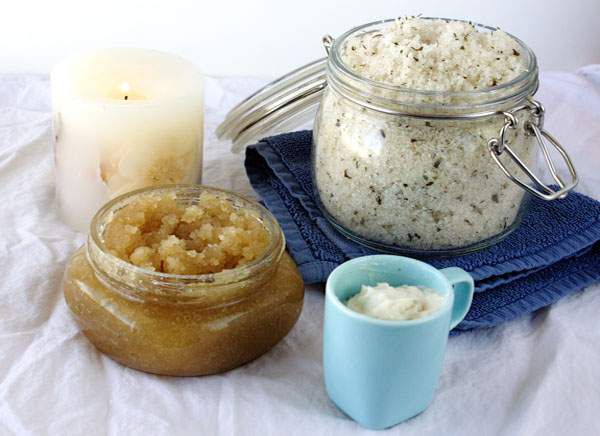 You can prepare cosmetics at home. It will be sufficiently high-quality, and its preparation does not require special expenses.
Before writing a recipe, I want to note that any natural products are very poorly stored, so they are ready to cook shortly before use. Exceptions to this rule are not scrubs. To prepare a body scrub, the following ingredients are required:
Ground coffee. It is extremely important that it be natural.
Honey.
Clay.
Salt.
Fig. Before use, it must be ground in a blender.
Brown sugar.

Oat flakes. They, like rice, must be crushed.
The ingredients listed above help exfoliate dead skin layers. Below are listed the components that contribute to moisture:
Any sour-milk product. Usually yoghurt or sour cream is used, kefir is also perfect.
Any vegetable oil. You can use what is constantly at hand.
Panthenol.
Considering the need to apply a scrub to the naked body, the warming components will not be superfluous. As such they can act as:
Ground pepper.
Essential oil of ginger.
Clay should be blue, its share in the scrub composition is 60 grams. Coffee in its pure form in the scrub is not added, it must first be brewed, and then squeezed through gauze. Sea salt should be added in an amount of 10 grams, preferably it should be large. To achieve maximum effect, apply the scrub at least once a day, daily. Doing this better after showering, when the pores are opened, and the skin is well steamed.
The main advantage of this scrub is that there is no doubt about its naturalness, and therefore in efficiency can not be, and the cost of its preparation will be much lower than the acquisition of truly high-quality and natural cosmetics at points of sale. The main condition for the effectiveness of such a scrub is the regularity of its application. Do not expect that the maximum positive effect will come after a few procedures.