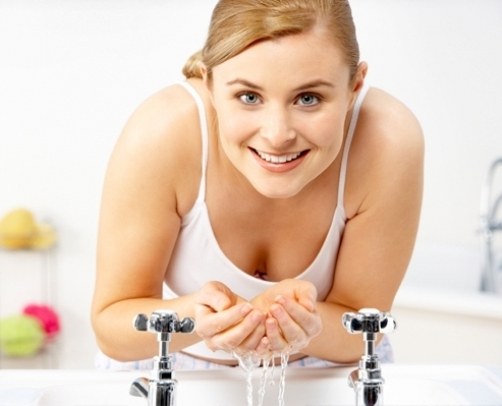 Facial skin requires daily cleansing and care. However, do not always use for this purpose such a common cleanser, such as soap, which contributes to the appearance of dry skin. It is much more useful to use for washing cleansing gels sold in pharmacies and beauty salons or cooked at home. A distinctive feature of gels made independently is the presence in them of only natural components, such as medicinal herbs, oat flakes, milk, vegetable oil, etc.
You will need
– chamomile, mint, plantain, potato starch;
– Wheat grains, dill, chamomile, black currant leaves, milk;
– bran;
– oat flakes;
– tea.
Instructions
For washing oily skin, prepare a remedy based on medicinal herbs and starch. A mixture of chamomile, mint, plantain (tablespoon of dry raw materials) pour a glass of boiling water, for a quarter of an hour let it brew, strain through a sieve and add potato starch (a teaspoonful). Wipe the face with this gel with a cotton pad, and after half an hour rinse with a small amount of boiled warm water.
To wash your dry skin, use an old
recipe
cooking broth from wheat grains. To do this, cook them (based on a glass of grains per 2 liters of water) over a low heat, stirring occasionally until the original volume is reduced by half. Strain the resulting broth and let it brew for 2 hours. Daily wash with this gel, keeping the rest in a cool place in an opaque container with a lid closed. In addition, in the case of dry skin, gels with dill, chamomile and black currant leaves are useful. To moisturize the skin, wash your face with a milky gel (milk and water are taken in equal parts from the calculation).
To cleanse the combined face skin, take the bran, soaked in warm water. Apply the mixture on your face for about a quarter of an hour, then rinse with boiled water and lightly pat your face with a soft cloth. Use this tool during the morning and evening cleaning procedures.
To wash your skin of any type, cook very popular among
Women
gel based on oatmeal. A small amount of oatmeal pour boiling water (based on a glass of water on a tablespoon of cereal) and cook for a quarter of an hour, remembering to stir. The resulting mixture should be allowed to cool, then strain through a sieve. With the washing of this remedy, the skin becomes smooth and healthy.
If you have not previously prepared a cleansing gel for washing, use brewed tea (black or green), which is also very useful for the skin of the face.