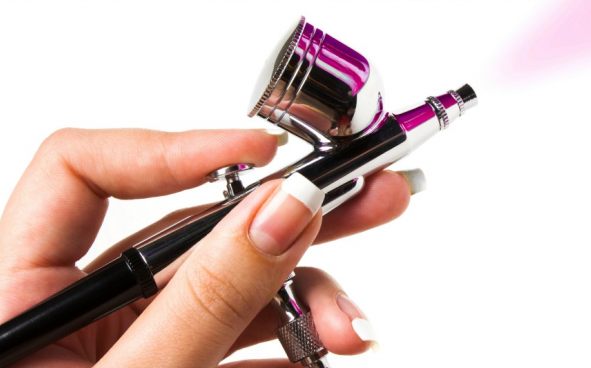 The original manicure attracts attention, is an integral part of the appearance of a woman. Creating a painting on the nails with the help of an airbrush allows you to embody the boldest ideas not only in the beauty salon, but also at home. This device is presented in the form of a spray gun with a container for the coloring substance, through which a manicure is done.
You will need
airbrush, compressor, hose;
paints (acrylic on a water basis);
stencils and a rug for cutting them;
gloves and napkins;
tipsy (for the purpose of training).
Instructions
First of all, you need to fill the airbrush with a coloring substance, the consistency of which must be liquid, like milk, the excess is removed with a napkin.
Nails should be prepared for airbrushing, for this is done a classic edging manicure with degreasing. The substrate is applied.
Next on the nail
by airbrush
The background paint layer is sprayed and well dried. You can not stop the movement of the hand while doing the work, otherwise a bright spot will appear, which will stand out against the general background. But if you need a color more intense, you can slow down the process during the application of paint.
After creating the background, the selected stencil is applied to the nail, and again the airbrush comes into operation. Beginners can be trained in creating a list on tips. This is also done when creating complex patterns. When applying it is necessary to take into account the nuance that the farther from the nail is the airbrush, the blurred and wider the line, the closer it is, the more accurate and detailed the picture.
Далее можно подправить маникюр, применив лак, кисти и т.д. Можно добавить декорирование, украсив ногти стразами, наклейками, цветным песком и т.д.
After the end of the work, you need to fix the manicure by applying the finishing coat of varnish. The airbrush is washed well after the end of the process, it is possible to do this using special means.