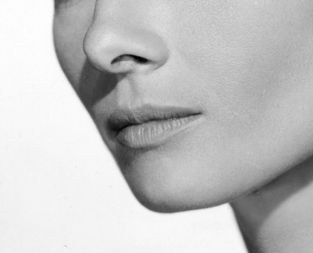 Did you know that when we talk, eat, laugh, our lovely little lips, on average, open 15 000 once a day! At the same time, our lips are especially vulnerable, since they do not have sebaceous glands and do not contain keratin. They are constantly under the influence of food, cold, heat and sunlight. This means that the mouth is extremely susceptible to aging and therefore requires a separate, especially careful care.
So how can you help your lips keep youth and health for many years to come?
First of all, to keep your lips always young, you must treat them with tenderness and care.
Do not bite your lips. This leads to the appearance of small cracks, through which harmful bacteria penetrate into the tissue and as a result inflammatory processes occur on the lips.
You can not lick your lips with your tongue to moisten them. From this, the lips begin to crack only.
If, after all, creams have been formed on the sponges, grease them with honey, vegetable or fruit juices (carrots or lemon juice is best suited), sea buckthorn or cocoa butter. You can also use special balms and hygienic lip sweets.
To maintain the elasticity of the lips, a light, pleasant massage with a soft toothbrush will help, which improves blood circulation and exfoliates dead tissues. After the massage you need to lubricate the lips with a fat cream.
If you only carry out these three rules every day, you can already count on a beautiful and young mouth.
Well and further, for health of lips, it is necessary to learn CORRECTLY to look after lips with the help of decorative cosmetics.
About two hundred years ago lipsticks were made only from natural products: from oils, beeswax and raisins. These lipsticks were very tasty, but kept on the lips for long. Today, lipsticks, mainly lanolin, made on the basis of fat sheep. To it are added bee honey, wax, castor oil and various natural pigments of color.
The modern industry offers a huge selection of cosmetics for women, so you can easily buy lipstick and sets of various accessories designed to care for the skin of your lips.
However, with the choice of lipstick, especially unknown companies, one must be on the alert. Remember that in recent years there have been many fake cosmetics. The use of cheap oil allows the production of lipsticks, which are quickly absorbed into the skin of the lips. In addition, we often lick our lips with lipstick applied to them. This leads to liver damage and various other inflammatory diseases of the body. Therefore, avoid using cheap lipsticks, remember that for human health it is very important.
How best to use lipstick?
– You can apply lipstick only one color, but it is more interesting to combine from several colors at the same time. For example, it is known that Marilyn Monroe's lips are always were plump and seductive. To achieve this effect, she used three colors of different shades of lipstick, and then covered them with a mixture of petroleum jelly and wax.
– When using two colors of lipstick, first you need to apply one, then moisten the moist lips with a napkin and cover them with a layer of another lipstick.
– It is better to use lipstick in combination with a special pencil-outline. This will make the mouth a little bigger. This method was used by Audrey Hepburn, and Marlene Dietrich. Just remember, if you overdo it, your lips will not look natural.
– The outline should always be darker than lipstick. But a very dark pencil does not match the bright lipstick. This makes a woman older.