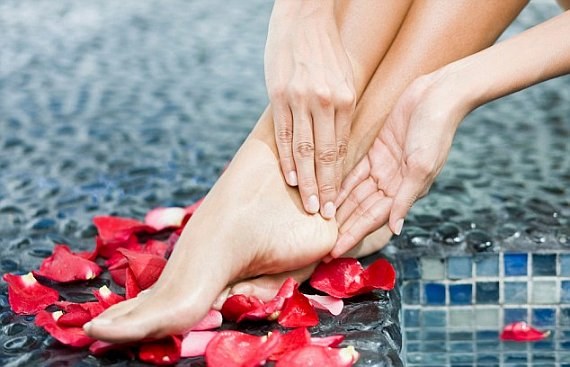 Летняя жара, открытая обувь на плоской подошве или нехватка витаминов часто приводит к тому, что пяточки выглядят не слишком эстетично, трескаются, а на ощупь становятся похожи на наждачную бумагу. А ведь вернуть им былую мягкость можно за 7 дней. Для этого необходимо всего два компонента – глицерин и уксус.
This means especially helps in the time trouble – when the lack of time makes you forget not only about the pedicure and the bath, but even about the standard treatment
heels
pumice stone. To create it, buy a bottle of glycerin in the pharmacy. Usually it is sold in small flacon filled halfway. Pour into the vial of glycerin the usual table vinegar. The approximate proportion should be 1: 1. Shake the vial well to allow the liquids to mix, and rub a small amount of the solution into the heels and other dry places on the
foot
. Then put on your socks and walk in them for at least half an hour. For the first time, it is better to lubricate this tool with steamed and pumice-treated heels. And then you can just apply once a day on clean feet. It is very convenient to do this before bedtime. In a few days you will notice the effect, and a week later you will have smooth and soft heels. This magic tool can also lubricate the skin on the knees and elbows.