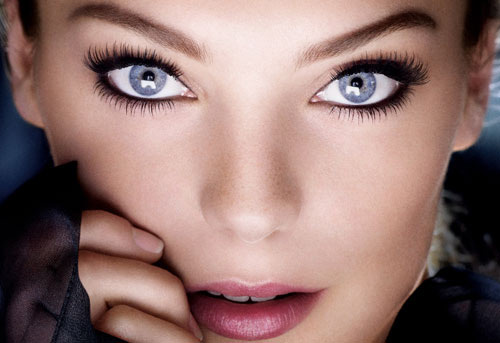 The peculiarity of blue eyes is that the intensity of their colors can vary depending on the lighting, makeup, shade of hair and clothing.
Instructions
To emphasize the natural beauty of the blue iris, it is necessary to hide such drawbacks as bruises and redness around the eyes. Apply a cream or powder corrector to the skin of the eyelids and gently shade it. The color of the masking agent should be one or two shades lighter than the shade of your skin.
Emphasize blue eyes with contrasting color shadows. Blue, blue and green shades are not recommended, because they can distort the natural color of the iris, make it fade and watery. Well emphasize the beauty of blue eyes terracotta, sand, brown, orange, pink, lilac and violet shadows.
In everyday eye make-up, combine two shades: light and dark. Apply to the whole upper eyelids the basic shades of sand, beige, peach or light pink hue. Line the growth of eyelashes darken brown, purple or copper color. Outside the eye, select the same shadows. Thoroughly shade the border of applying shadows. To make the makeup last longer, use a base or primer for the eyelids.
Select the outline of the eye with a liquid eyeliner or eyeliner. With blue eyes, the arrows of dark gray, purple and copper color are spectacular. Eyelashes can be made up with brown or purple mascara.
Eyes can be made brighter by correctly picking up clothes and accessories. The choice of color here is the same as in the choice of shadows, i.e. It is desirable to avoid bright blue and blue blouses, scarves and hats. Although the small details of the blue color can go well with the blue eyes. For example, turquoise or sapphire earrings, as a rule, make the blue iris even brighter.