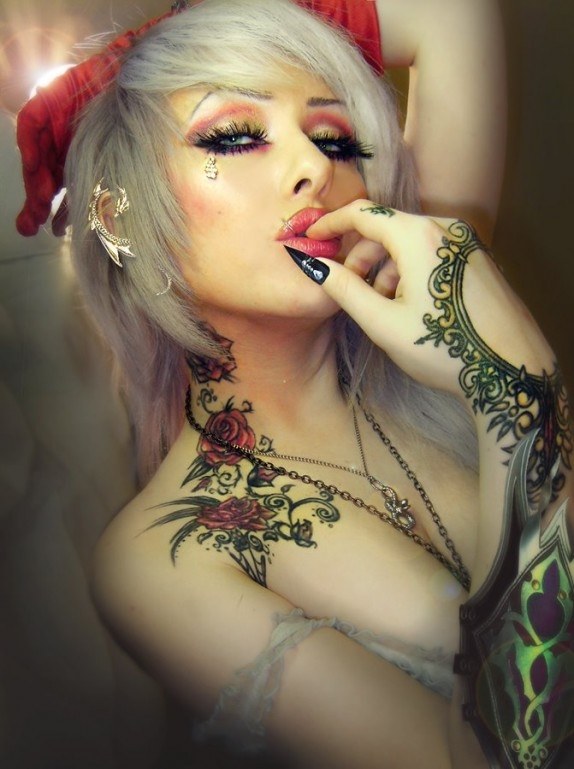 Tattoos are applied for various purposes: to decorate one's own body, to designate belonging to a particular social group, to emphasize individuality, to hide scars. In the last decade there has appeared a so-called tattoo make-up, which has an exclusively decorative role. Regardless of the reason for tattooing, the technique of performing it remains the same.
Before applying the tattoo, the master and the client discuss the pattern that will be applied to the skin, its size, location and color. Next on paper, a sketch is made, which is superimposed on a special copy paper. The master holds a pen around the entire drawing, and it is imprinted on the back of the sketch. All other manipulations are performed in sterile gloves. when drawing a tattoo, the risk of infection with hepatitis and HIV is high. The client's skin is treated with an antiseptic, and a sketch is applied to it with the side that was printed as a result of copying. Then the paper is removed from the skin, and the pattern remains printed on it. The master applies a sterile petroleum jelly to the future so that the imprint is not erased while working. Then, in the presence of the client, a tattoo machine is assembled, disinfected removable parts and sterile disposable needles are put on it. A small amount of paint is poured into the cap, which will be used to apply the pattern. Initially, the master draws a contour, thin parts of the picture, individual small details. Next, the entire image is filled with paint, then with a few needles, shadows are applied. The tip of the tattoo-
machinery
is arranged in such a way that when the needle is dipped into the cap with the paint, it absorbs a small amount of pigment, which then doses under the skin with punctures. In the process of drawing a tattoo, the client feels a tingling sensation that is not only indifferent to some people, but can even bring pleasure. The reaction of a particular person to injections of a tattoo machine depends on individual susceptibility to pain. The process of applying the tattoo ends with a re-treatment of the skin with an antiseptic, applying an ointment designed to care for wounds and protect the picture with a bandage or food film. Application of biotactuals or
temporary tattoos
, as they are often called, occurs in the same way. The only difference is that henna is used as the pigment, which is eaten in the upper layers of the epidermis, and then gradually removed along with the slipped skin for 1-2 weeks. Permanent makeup (
tattoo
) is performed by the same tools in the same sequence. There are certain nuances: the preliminary sketch is drawn directly on the skin with cosmetic pencils, other dyes are used, washed out of the skin for 3-5 years.