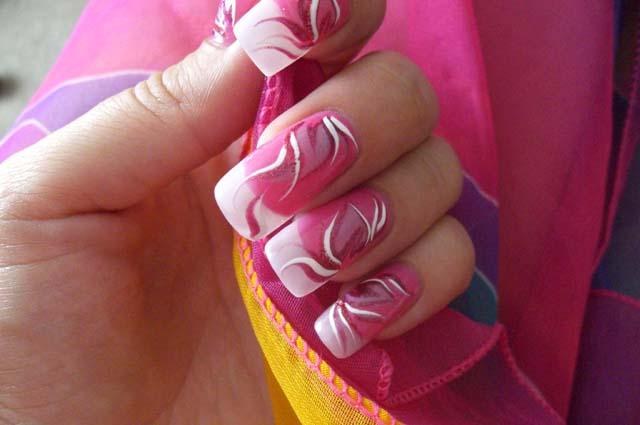 Decorate nails with patterns can even a girl who can not draw. Use an ordinary needle – with its help it is easy to depict a variety of curls, flowers and hearts. Using contrasting shades of varnish, you can achieve a very interesting effect.
What you need for a manicure
For drawing, you need a long and not too thin needle. Ideally fit needle for embroidery with a rounded tip. You will need varnishes and contrasting shades. Choose colors according to your own taste. It looks beautiful combination of blue or red hue with white, black with silver or light gray. You can try and more vivid duets – for example, combine blue and yellow or green with pink.
Varnishes for drawings choose dense and opaque, sufficiently thick. They should fit well in one layer. Translucent, jelly and textured lacquers such as sand or matte will not work.
Do not forget about the top coating with a glossy effect. It will give the manicure a shine and strength, smooth the irregularities on the nail plate and make the pattern complete. You can supplement the design with rhinestones or pearls for nails – they will give the manicure more decorative.
Features of needle technology
Align the surface of the nails with a polishing file. Then apply a protective base and let it dry completely. Type on the brush a background lacquer – for example, dark blue – and apply it to the nail so that no gaps appear. Flows can be removed with a flat synthetic brush, moistened in a liquid to remove varnish.
Let the varnish stick a little, but do not completely dry it. Apply a few drops of enamel on the top of the background lacquer. A dark-blue color is ideal for white, cream or silver shades.
Take the needle and its point, draw the lacquer drops into the elegant curls, feathers or zigzags. Try to make the pattern adorn and visually correct the nails. For example, by placing the drops at the base of the nail and pulling the curls up, you visually narrow and lengthen the plates, making the fingers more elegant. Do not scratch the lacquer right through – the needle should slide over the surface.
With the help of a needle you can draw a flower on your nails. On the dried lacquer, drip a portion of contrast enamel, and then stretch the petals with a needle, forming a beautiful chrysanthemum. In the center of the flower, you can attach a rhinestone, an artificial pearl, or put a drop of contrasting varnish with a metal rod-dotsa.
Very impressive looks and a chain of stylized hearts. Dots put a few points on the nail. Using a needle, make a small stroke down from the middle of each point. Hearts can be made in many colors – for this point you need to put a colored varnish and use a separate needle for each tone.