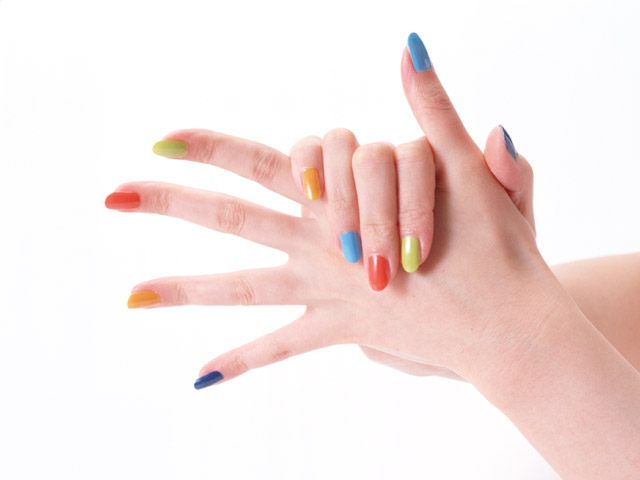 Nails of beautiful shape with the original manicure always attract attention. In the last two years, more and more fashionistas prefer to paint marigolds in different colors, and this is not surprising, because such a manicure looks very interesting and spectacular.
Nails painted with multicolored flowers, this is the trend of 2014 year, which will be no less relevant in 2015. There are several options for the design of manicure in different colors. About them below and there will be a speech.
A cheerful rainbow. At the heart of this manicure is five shades lacquers saturated and contrasting colors. Beautiful options: purple, yellow, green, red and dark blue, as well as bright pink, yellow, emerald, orange and purple. Each fingernail of one hand has its own color, this method is repeated on the second hand. Quite interesting is the image, in which the decorations are selected exactly in the tone of any one shade of varnish.
An excellent alternative to the above manicure is a rainbow made in muted tones. The main difference of this manicure is the matte colors of pastel shades. An excellent option – lacquer gently blue, pale lime, light lilac and gently pink tones.
At the peak of popularity in 2014 year – a gradient of color. The basis of technology – drawing of a varnish from a big finger to a little finger, and a fingernail on the big finger should be the lightest shade, a fingernail on a little finger – the darkest. To create this manicure, lacquers of the same color range are taken, but in different shades. Most vividly look violet-lilac, red-pink and blue-blue scale.
Quite original looks a manicure in which all marigolds are painted in one color, and one nail (usually an unnamed or little finger) – a few tones darker. The most interesting combinations are brown and cream, dark blue and sky blue, red and soft pink, purple and lilac.