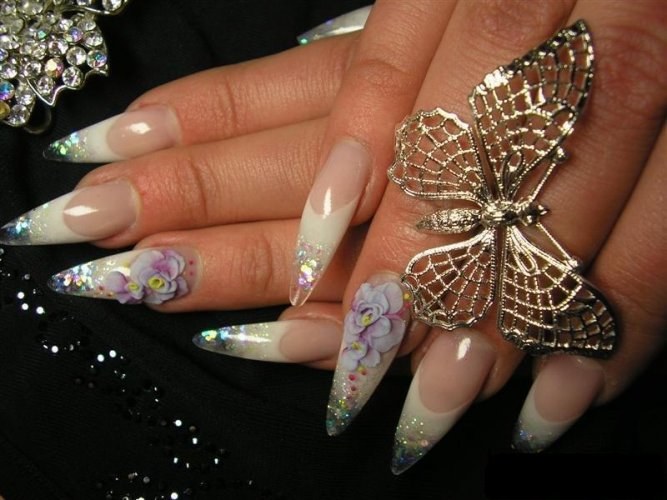 There are no boundaries in the modern art of manicure, there is a huge number of ways and methods of building nails. Artificial material allows you to visually fix the fracture and structure of the nail plate, it does not matter in what state were your natural nails. Acrylic is one of the most popular materials used to build durable and resilient nails.
You will need
– glass container;
– Pink acrylic;
– белый акрил;
– primer;
– nail file is coarse-grained;
– nail file with fine grain;
– an orange stick;
– щетка;
– forms;
– liquidity;
– Brush.
Instructions
Before you start building up acrylic nails, prepare them: wash your hands thoroughly with soap and disinfect each nail plate with a special spray (or antiseptic gel). If necessary, do a dry manicure. Apply a softening compound (based on fruit acids) on the cuticle and after a while, move it away with an orange stick.
Saw nails, working a file in one direction. Using a file with a large grain, remove the top coating nails neat and light movements, try not to damage the cuticle. Remove any dust that has formed after treatment with a special brush.
Нанесите тонкий слой праймера на ногтевые пластины, старайтесь не попадать при этом на кожу. После того как жидкость подсохла, смажьте еще раз все ногти праймером. Возьмите форму и установите ее на фалангу пальца таким образом, чтобы она была расположена под уголками ногтя, не оставляя зазоров. Аккуратно соедините концы формы, она должна принять естественный и правильный изгиб.
Pour liquid into the glass container, moisten the brush and carefully wring it, it should stay practically dry. Take a small ball of white acrylic with a brush, apply to the mold and spread it lightly over its entire surface. Dampen the brush in the liquidation and form a line of a smile. Pay attention to the fact that acrylic is slowly polymerized. Align the end of the future nail and the sides.
Form a ball of pink acrylic and apply it with a brush on the natural nail. White and pink layers should slightly intersect. Align the surface of the nail with light brush touches. Dampen it in liquidation and place the second acrylic ball on the cuticle area (leave about one millimeter from the edge of the cuticle), level the surface and the sides.
Again, moisten the brush in the liquid and apply a third powder ball to the stress area of ??the nail (the connection of the white and pink layer) for strength, the surface should remain slightly moist. Wait until the acrylic dries completely and remove the molds. With a coarse-grained file, begin aligning the nail, tilt the nail file at an angle, try not to touch the skin. Grind the surface of the acrylic nail with a fine-grained file.
It remains to put on the nails the finishing layer of clear lacquer, dry, lubricate the cuticle area with special oil and distribute along the length of the nail.