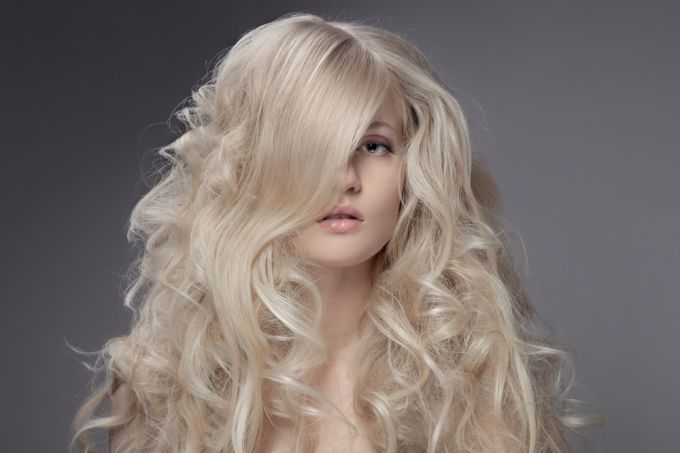 Luxurious wavy hair always looks stylish. This hairstyle perfectly suits both for the office, and for a fun party. Iron, hair curlers, a round brush and a hair dryer are those adaptations with which help to create curls can be easily and simply. Curlers – this is the safest way to create large curls on both long and short hair. The larger the diameter of the hair curlers, the larger you get curls. Screw the first strands first, and then go to the top. Curlers have a ladder: one above the other. Before winding a strand, moisten it with water. You can wind hair in or out. It depends on your desire. Twist your hair to the roots. Take care that the hairs do not break out at the edges of the curler, otherwise part of the strand will be curled, and the other will remain straight.
Before waving it is recommended to treat hair with styling products. Then the curls will turn out to be elastic and will last longer. You can use folk remedies. For example, beer. It is a natural fixative. Wet a strand of beer, and then wind it on curlers. Of course, an unpleasant smell will first be strong. But after 10-15 minutes it completely disappears. But in beer contains many vitamins and minerals, which need hair.
If you have short hair, use Velcro curlers to create large and large curls. Curlers have a hairy surface, so they stick to their hair.
Gelatine also has a good fixative effect. You just dilute 1 st.l. substance in one glass of water. Wet this solution of the strand before winding on curlers. If you are not afraid of hard hair, use lemon water for fixation. To do this, dilute 3 st.l. citric acid in a glass of water. You can simply moisten the hair with lemon juice. If there is no lemon, use sugar water. Dilute 3-4 st.l. sugar in a glass of water. In order to keep the hair shine and beauty, dry the twisted strands in a natural way. But if you are in a hurry, then you can use a hairdryer.
When creating curls with ironing, choose a model with a ceramic coating. This effect on hair is more gentle.
It is convenient to create large curls with a hair dryer and a round brush. To do this, thread one strand on the brush and dry it with a stream of air. Then go to the next strand. To get a hair style, lift your hair with a brush at the roots. You can lightly brush them. It will not affect the curls, but the root volume will appear. Please note that hot air negatively affects the health of the hair. So do not abuse this method.
Еще несколько лет назад утюжок применялся только для выпрямления волос. Сейчас он превратился в универсальное средство, с помощью которого можно завивать локоны и придавать волосам объем. Вам понадобится тонкий утюжок с закругленными краями: он непременно должен нагреваться с внешней стороны. Процесс создания локонов следующий: вначале расчешите волосы, затем выделите прядь с одной стороны и обработайте ее термозащитой. Быстро накрутите волосы на утюжок и держите до тех пор, пока прядь не обретет нужную форму. Локон должен быть волнистым, а не кукольным. Для этого не зажимайте прядь утюжком слишком туго. Если вы хотите, чтобы локоны стали крупными, проведите расческой по волосам. Только делайте это в тот момент, когда волосы полностью остынут. Если вы расчешете волосы сразу, есть риск, что они полностью разовьются.