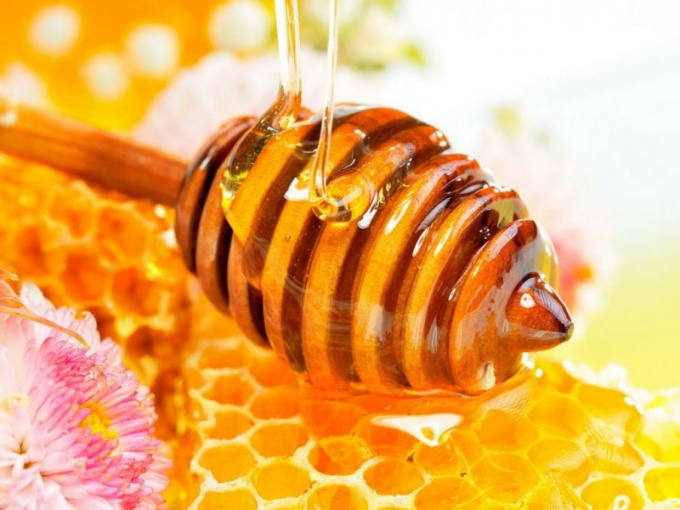 In honey contains a huge amount of vitamins and trace elements, which positively affect human health in general and the skin in particular. There are many recipes for scrubs, which include honey.
Scrubs with honey
If you want to cleanse the face of dead skin cells of the epithelium, refresh skin color and nourish it with nutrients, mix honey and olive oil in equal proportions. Gently apply the composition to the face cleansed from the make-up and lightly massage. Wash with cool water and wipe the skin with an ice cube to give tone. Do not forget to use a moisturizing or nourishing cream.
A honey and chocolate scrub is more suitable for the body than for the face. Rub on a very fine grater or chop the bitter chocolate bar in a blender. Mix 6 tbsp. the resulting crumb with 2 st.l. honey. Add to the mass 1 st.l. grape seed oil. Take a shower and rub a scrub with a massage. If you add a little bit of salt to the product, the exfoliating effect will be greatly enhanced.
Soften the knees, elbows, heels and other dry areas of the body will help scrub cooked with the addition of honey. Mix 3 tbsp. glycerin, 1 st.l. honey, 5 drops of lavender oil and 1 st.l. salt. Take a shower, or better – a bath. After put the scrub on the problem areas, massage, leave for 5 minutes and rinse. You can conduct the procedure several times a week.
If you have dry skin, a scrub from honey and buttermilk will do. Mix these components in equal proportions to obtain 70 g of the product. Add a tablespoon of freshly ground coffee, 1 protein, 1 tsp. grape seed oil. Stir well and apply to moisturized skin. The resulting volume will be enough to clean and refresh the entire body. Try to conduct the procedure in the morning, as scrub with honey invigorates.
Whiten the skin and make it firm with a honey-lemon scrub. Mix honey, salt, lemon juice and coconut oil in equal proportions. Massaging movements apply to the body, after wash and lubricate the skin with a light cream, if necessary.
Honey scrubs do not suit everyone
Since some people have an allergy to honey, it is necessary to use it as a base for scrubs very carefully. If you can not eat honey, since you are then concerned about skin rashes or other problems, it's best not to experiment.
Try to apply honey scrubs neatly, as otherwise bruising may occur. It is best to rub the prepared formulations into the steamed skin – there will be much more benefit, and pain will not arise. A beautiful body is the result of working on yourself, and scrubs in this matter do not interfere.