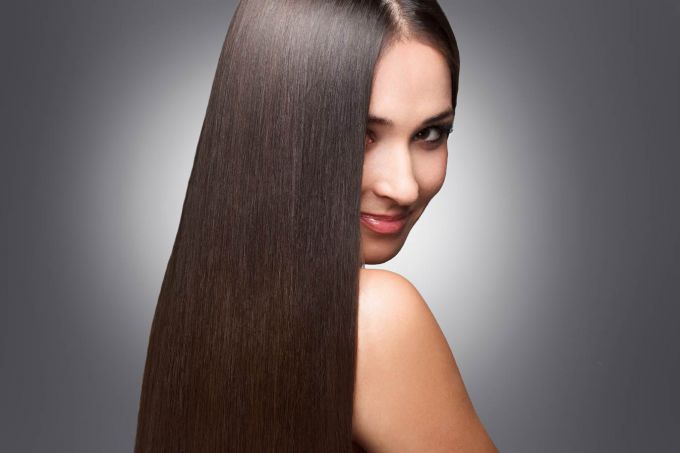 Perfectly smooth hair will never go out of fashion. There are many ways to make them straight. You can use hairdressing services. And you can cut financial costs by straightening your hair at home yourself.
How to straighten hair with iron
Beforehand, the hair should be well washed and dried. In no case can you use the iron on wet hair. Otherwise, the structure of the hair will deteriorate. Before heat treatment, you need to use a product that protects your hair from high temperature and comb it well.
The plait is heated to 210 ° C, unless otherwise specified by the instruction. If the hair is weakened and damaged, the temperature of the styling product should be 180 ° C. You need to take a small strand, based on the size of the heating part of the styling. Hair is grasped by ironing at the roots, retreating to 1 cm. Immediately it is necessary to lower the iron. This procedure is repeated with all strands on the head. If desired, after straightening, you can sprinkle your hair with varnish.
Straighten hair ironing can not be more than twice a week. Otherwise, the structure of the hair will be damaged.
How to straighten your hair without ironing at home
If you do not have ironing at hand, you can straighten hair with a hair dryer. First you need to wash your hair. Then apply foam or mousse. Hair is divided into strands, which will need to be dried with a hair dryer using a round comb. Strand as it stretches the comb from the roots and to the tips. At the same time, you need to dry your hair. It should be noted that the air flow should be strong enough and be either medium temperature or cold.
How to straighten hair without ironing and hair dryer
When you do not have styling at your fingertips, folk remedies can help you make your hair straight. Before you wash your head, you need to apply olive oil or burdock oil to the entire length of the hair. As a result, the hair will be straightened by thickening with oils.
Straighten hair without ironing and a hair dryer will help white henna. In addition, it will eliminate dandruff and cross-section.
But the people's means will not give such an effect, as after using styling funds.