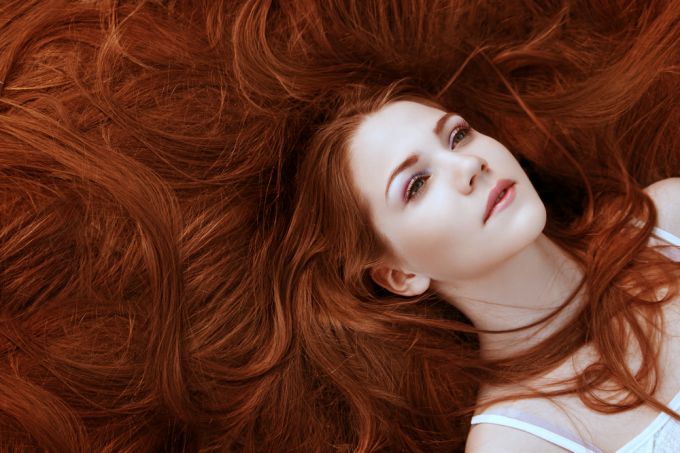 Experiments with changing hair color are not always successful. The result may not be as desired, and the strands stain unevenly. To make the hair color more even, you need to use special tools or folk recipes. The reasons why hair can be unevenly colored:
– incorrect application of coloring substances;
– the remaining stapling agents on the hair;
– наличие на момент окрашивания остаточных пигментов;
– your hair has an uneven structure, etc.
Color change
Begin the process with a hair wash specifically designed for this shampoo-peeling. Then apply a restoring nutrient that detects and eliminates damage to the structure of the hair. It is advisable to carry out the new staining using the means that you used before. If you want to get a darker shade you just need to reduce the time that the applied paint stays on your hair.
Hair becomes darker
Sometimes there are situations when with each subsequent staining the hair becomes more dark. In such cases, when using persistent or intensive paints, it is first necessary to apply them to the overgrown part and only during the last minutes of staining for some time on the remaining strands. All toning rinses must be washed off prior to the beginning of staining. This will prevent the accumulation of pigment at the tips of the hair.
It is important to know that the longer the hair, the more porous its tips are. So, they will absorb most of the pigments. Therefore, the paint is first applied to the roots of the overgrown hair and only at the end of staining for a short time at their ends.
Do not forget that the tips of your hair constantly need intensive recovery. It is a prerequisite for the hair to stain evenly along the entire length.
Make hair color more smooth folk remedies
A mask with honey will perfectly solve this problem. Before applying it, rinse your head using a shampoo in which you must first add a teaspoon of sea salt. At the end of this procedure, blot hair with a towel, then apply honey on them.
Помните о том, что укрывать после этого голову плотной тканью или полиэтиленом не следует. В крайнем случае можете воспользоваться ситцевой косынкой.
The mask should be kept for at least ten hours, after which it should be washed off in the usual way. This mask has a whitening effect, in parallel giving the hair a natural even shade.
Before applying this mask, please specify if you are allergic to honey.
To smooth the color of the hair, you can use a kefir mask. To do this, it is sufficient to warm it to a warm state, apply it to the hair and leave it for half an hour. It is washed off with a lot of water.
Крайнее средство – короткая стрижка
Это, безусловно, метод радикальный и прибегать к нему следует только тогда, когда все иные способы не помогают. Стрижка будет полезна в тех случаях, когда кончики волос приняли существенно больше пигмента, чем основной волос. Этот недостаток присущ волосам с секущимися и пористыми кончиками. Если их своевременно остричь, то, сохранив здоровье волос, можно добиться более равномерного окрашивания.