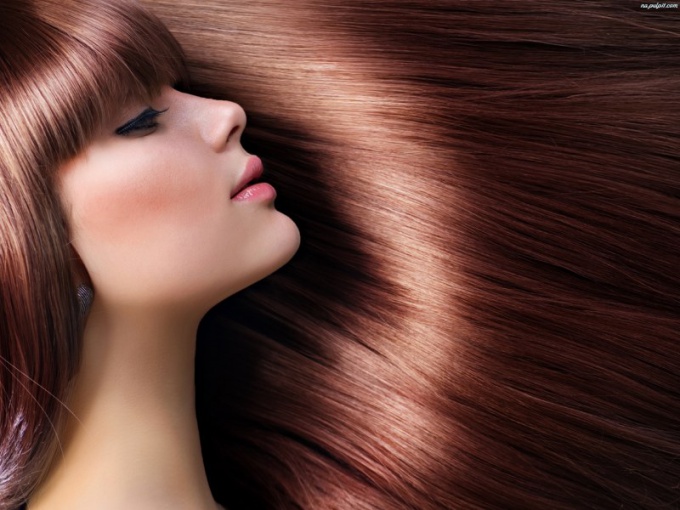 Biolamination is a procedure that quickly allows you to bring your hair in order, make it bulky, beautiful and silky. It is advisable to carry out this procedure in the cabin, but you can try to make it yourself.
You will need
A professional tool for biolamination, a brush for applying the product, a hairdryer for warming up, a polyethylene cap, a regenerating mask.
Instructions
Biolamirovanie hair is a procedure for coating hair with a natural cellulose composition, which kind of seals the hairs, making them smooth and shiny. The substance protects the hair from damage, keeps the styling in rainy and windy weather. After the procedure, the hair grows in volume, looks well-groomed and healthy.
After the procedure, it is not recommended to wash your head for two days, use a hairdryer, forceps and other devices, dye your hair before the procedure for 2 days and after biolamination, until the composition clears.
The first stage consists in applying a special brush to a professional tool for biolamination on the hair. The remedy should be on the hair for about half an hour. Next, it is necessary to warm the hair with a hair dryer so that the compound is well absorbed by the hair. At the final stage, the substance is washed off with non-corrosive water.
Do biolamination enough once a month. The procedure is useful for hair and has no contraindications. After biolamination, the hair is protected from ultraviolet rays, the hair stays longer, the hair ceases to be electrified, flared and looks more attractive. In addition, there is no need to use fixing means – it is enough to use usual blow-dryer. It is recommended to make bio-lamination after chemical waves and other procedures that damage the structure of the hair.
Biolamination can be colored or colorless. Colorless biolamination is often used after coloring, highlighting, blonding and other multi-color staining. If you perform the procedure immediately after staining – the color will become more saturated and last longer will stay on your hair. Color biolamination includes two procedures at once: staining and lamination. Hair not only acquire a rich color, but also get protection, in which newly dyed hair is in great need.