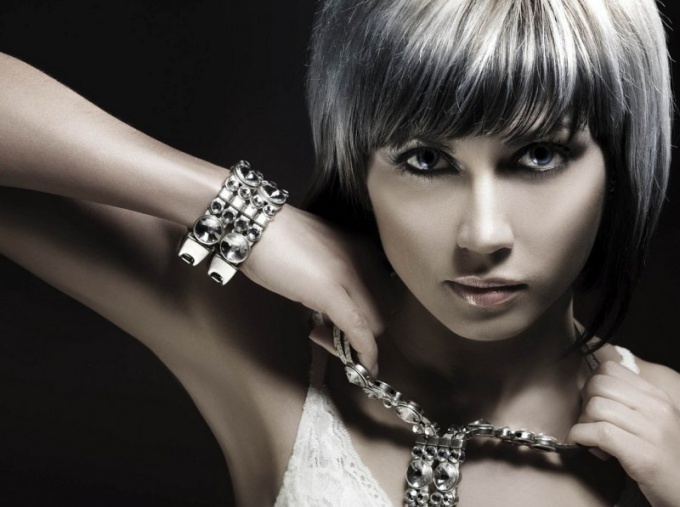 An ashy blonde with a hair color close to gray hair is a new trendy trend of the last seasons. If you decide to do gray hair, then note that this hair color will not go to everyone and it needs good, healthy and well-groomed skin of even tone. It is best if the hair coloring you produce in the cabin, especially if they are long.
Instructions
Do gray hair it will be much easier on blond hair. In this case, they will not have to be subjected several times to the destructive bleaching procedure – to get rid of the pigment staining them. Preparations used in salons, for example, "Blondor", although refer to the means of a new generation, but still very harmful to the hair.
You can prepare hair for staining and yourself, using so-called "wash" – a professional composition with a strong clarifying effect. It can be purchased at specialized stores. With this tool you can lighten your hair color for 2-4 tones. Have girls with chestnut or red hair after these procedures, a slightly greenish shade may appear, but after applying a persistent "platinum" paint or tint of ash color, this effect will be lost.
On already clarified hair to obtain a noble gray, you can use a special tonic of purple. It is applied to the head and
not washed away
for 24 hours. Every week when you wash your head, you need to add it to the shampoo that you normally use to maintain the desired shade. After the head is washed once 10-12, the hair color needs to be updated, lightening the roots of the hair. To keep it longer, use special shampoos for colored hair that preserve their color.
When coloring the roots, it is important that the coloring composition is applied evenly. Apply the paint first to the roots, and for X minutes through 15 spread it with a comb through the entire length of the hair. Strictly follow the instructions and do not overdo the paint on your hair.
Use necessarily nutritious masks for the painted hair to keep them healthy and shining. In the same specialized shops you can buy ready-made compounds for clarified hair. But it is very good for damaged hair to use masks with a few drops of tincture of hot pepper, which is sold in pharmacies. It can be added to balsam or burdock oil.