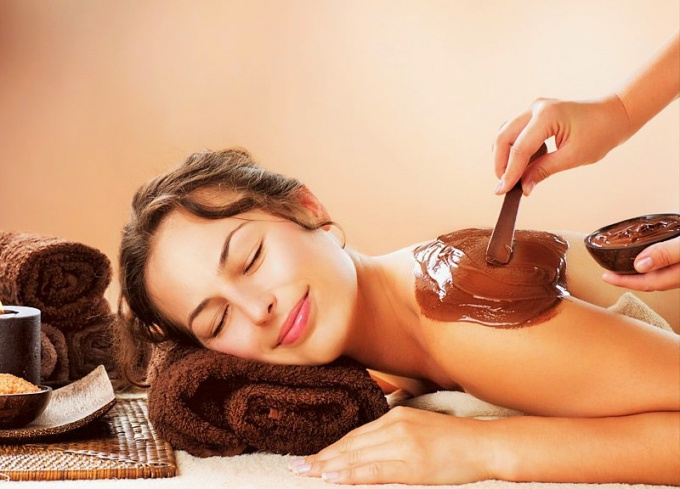 Chocolate is the source of youth and beauty of the skin. Contained in it, cocoa butter and caffeine tonify, moisturize, rejuvenate, eliminate swelling, so the sweet product is the best suited for peeling face and body at home. There are several simple recipes for delicious procedures.
Chocolate peeling will give the skin of face and body radiance, improve blood circulation, protect against premature aging. This fragrant procedure is aimed at cleansing, in addition, peeling with chocolate nourishes and moisturizes. Peeling with your favorite many products can be used for face, neck, decollete and whole body skin.
The face peeling procedure should be performed no more often than once a week. Body peeling with anti-cellulite effect can be repeated twice a week to prepare, for example, a massage.
For chocolate beauty sessions, you can use purchased products, but it's easy to prepare the mixture yourself. The main ingredient is cocoa powder. When purchasing this product, carefully read the composition: the cocoa should not contain flavors, sugar and other additives.
Classic chocolate peeling
It is necessary to mix 60 gr. cocoa powder and according to 100 gr. liquid honey and brown sugar. In the mass you need to pour 50 ml of vegetable oil (for example, olive oil), 3 drops of ginger or vanilla essence. Stir thoroughly and peel at home conditions. To perform the procedure, you need to cleanse the skin and apply a lot of it to it, massage it gently for 10-15 minutes, rinse with warm water.
Chocolate peeling with brown sugar
Connect 0,5 art. brown sugar and 3 st. l. cocoa powder, a small amount of olive oil. The mixture of consistency should resemble sour cream. You can apply this peeling for the face and body.
Coffee-chocolate peeling
This recipe is more suitable for the body, peeling with coffee will have a pronounced anti-cellulite, tonic effect. To prepare the mixture, mix 100 gr. cocoa with 1 art. l. natural ground coffee and 2 st. l. ground oatmeal.
Chocolate-oats peeling
To prepare the mass for home peeling, mix in 1 st. l. ground oatmeal and cocoa powder. In this mixture you need to pour in 1 art. l. milk or warm water. The recipe is suitable for both the face and the body.
Peeling with yogurt
Connect 1 art. l. cocoa powder with 2 st. l. natural yoghurt. Excellent choice for dry and sensitive skin, can be used for facial skin, decollete zone.