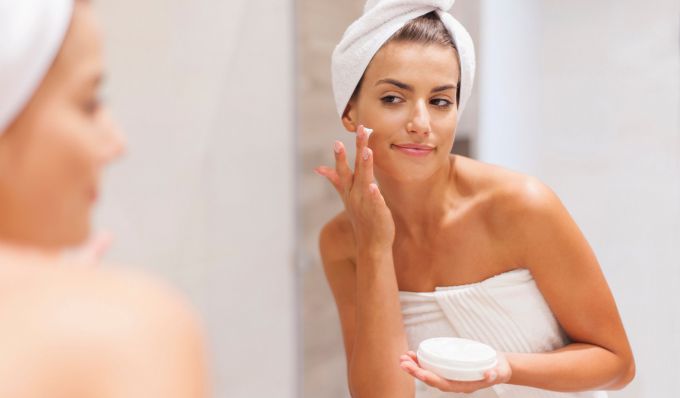 Beautiful even skin is the dream of many women. And to achieve this is not so difficult as it seems. The main thing is to remember about proper care and observe simple rules.
Instructions
Purification
Care begins with cleansing. This is an axiom. The main thing – to choose the right tool.
? Do you have normal skin? Congratulations! You can use any means, but do not abuse the scrubs. Optimal solution – gel for washing.
? In case of oily skin, the lack of moisture is compensated by the production of sebum. Avoid soaps and use scrubs no more than 1 times a week. Your choice is a soft foam.
? Washing with water will only exacerbate the problem of dry skin owners. Your choice is an easy cleansing milk, and the skin will thank you.
? Sensitive skin requires special care. Delicate care will provide an air cream with a silky texture.
Preparation
After cleansing, the skin needs to be prepared for further care: restore the PH-balance, give radiance.
? The mask is a real magic wand for instant transformation. Humidification, lifting, nutrition – the mask will be in this faithful assistant. They can be used every day, except cleansing.
? Tonic will restore the PH-skin after cleansing. It is desirable to have a few and last to apply one that solves the main problem: matting – for oily skin, moisturizing – for dry and sensitive, etc.
? Whey has an increased concentration of nutrients. This is an "ambulance" for the skin. But it does not replace the cream applied to it. Light texture will provide moisture, nutrition and healthy radiance.
? Vitamins. To maintain a healthy young skin, you need to pamper her vitamins, especially in autumn and winter. Choose a convenient format – masks, lotions, whey, complex program – and enjoy.
Basic care
The final stage is cream. Remember the main rule: to use day cream at night is acceptable, but at night – no.
? Day cream helps previously applied funds to perform their work and prevents external negative factors. Most daytime creams contain UV filters.
? Night cream restores the skin, allows it to rest and fills with new strength. It does not contain protective components and filters, therefore it is not used in the daytime.