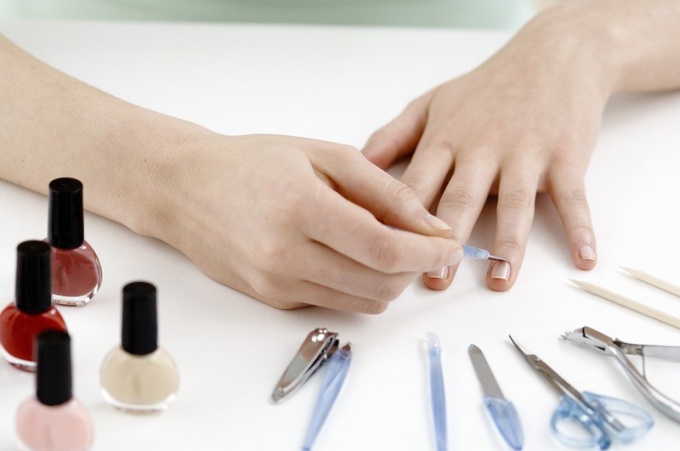 Classical edging manicure it is best to do at home. The use of individual tools made of high-quality steel guarantees an excellent result and complete safety of the process. To manicure turned into a pleasant and useful procedure, use suitable cosmetic products – maceration, lotions, scrubs.
What you need for a manicure
For an edging manicure you will need sharp scissors or special nail clippers, cuticles with thin blades, a metal pusher or a set of wooden sticks, as well as a glass or ceramic nail file. If your nails are uneven, choose a polishing bar and leveling base. Those who plan to cover nails with varnish, you need to buy a suitable enamel and coating-drying.
For the traditional wet manicure you need a solution for the baths, a nourishing lotion and a cleansing scrub. Choose means from one series, strengthening action of each other. For winter, a warming series with the addition of citrus oils is suitable, and in the summer, moisturizing and cooling compounds based on curative algae and sea salt are especially good.
Process Features
Prepare a softening bath by adding a solution for maceration to warm water. Dip her hands on 3-4 minutes. Then wipe your hands with a terry cloth, apply a small portion of a scrub based on salt, sugar or mineral particles. Rub your fingers, paying special attention to coarse areas. Rinse and wipe hands.
After pre-treatment, you can begin to form nails. Preform the form with tweezers or scissors, and then grind the edges of the plates with a saw blade. Try to keep the length of all plates the same. Cuticle is removed by a metal pusher, and then cut with nippers or very thin scissors. Cut carefully, peeling the skin in one motion. Such a method will help to avoid painful wounds. If you are still cut, disinfect the damaged area with a solution of hydrogen peroxide.
Cuticle nippers remove the burrs, trying not to cut off excess skin. In conclusion, massage your hands with a disinfectant and moisturizing lotion. On the cuticle area you can apply a special softening cream or a nutritious oil. Polish the surface of the nails with an aligning bar. It will remove grooves and irregularities, give the plates a beautiful pinkish color and natural shine.
The final stage
If you plan to cover the nails with colored enamel, first degrease their surface with a nail polish remover that does not contain acetone. Then apply a protective base, and on top of it – two or three layers of varnish. In conclusion, cover the nails with top with the effect of drying, which will significantly prolong the life of manicure.
To the effect of the procedure lasted as long as possible, regularly lubricate the cuticle with a nutritious cream or butter and move it to the base of the nail. This will not allow it to grow excessively and help to keep a neat look of nails.