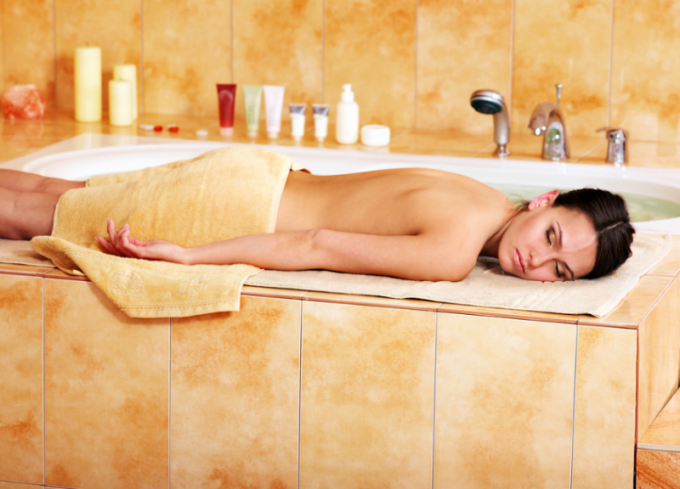 The wrap is one of the most effective cosmetic procedures that smooths the skin, improves its condition, eliminates cellulite deposits. You can carry out this procedure both in the cabin and at home.
You will need
A food film, a wrapping mixture, an anti-cellulite cream and a scrub, a warm plaid or warm pants.
Instructions
Make one of the mixtures for home wrap. Mixture 1: 2-3 spoons of natural honey dilute with the same amount of warm water.
Blend 2: dry mustard (tablespoon), dilute with warm water and add a spoonful of honey.
Mixture 3: melt the bitter chocolate bar in the microwave, add a little water to the chocolate mass or warm whey (this mixture is applied in a warm form).
Mixture 4: brew 4 st.l. green tea (grind in a coffee grinder) with boiling water, add a teaspoon of honey to the gruel from the tea, two pinches of ground cinnamon.
Anti-cellulite scrub in the bathroom thoroughly massage the thighs and stomach. Wash off the scrub with warm water. Dry the body.
Apply on the hips and stomach prepared beforehand mixture, evenly distributing it on the body. Wrap the body with food film. Cover with a rug or, if you do not want to lie on the bed, put on warm pants to cover your stomach and thighs. Within an hour are wrapped this way. You can additionally do household chores or gymnastic exercises.
Rinse the mixture from the body under a warm shower. Apply an anti-cellulite cream or gel on the skin. The procedure is finished.
Do not wrap without consulting a doctor if you have such diseases as varicose veins, pregnancy, cardiovascular problems, oncology.