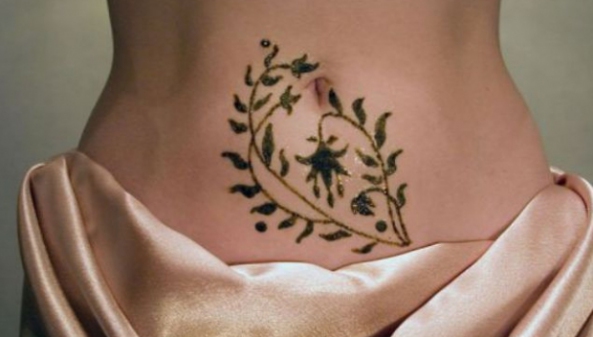 A beautiful, stylish and neat tattoo attracts looks and attention. But decide to decorate your body, maybe not many girls, because such an "accessory" on the skin will remain for life. The ideal option is to try to tattoo your style – a temporary tattoo, made with henna. And you can do it at home, thereby saving money and time on the march to the salon.
You will need
– Henna
– a bowl
– water
– lemon juice
– food film
– ground coffee
– granulated sugar
– alcohol
– stencil or marker
– syringe
– toothpick
Instructions
To prepare a composition for temporary tattooing, you need to buy a special henna in the form of a powder (the one that dye your hair, will not work). The powder is thoroughly mixed with lemon juice. The resulting mass should not be too liquid, and also try to keep it in no lumps. The bowl with the mass should be covered with food film or any cellophane bag and let stand for at least 12 hours. If the paste is too thick, it must be diluted again with lemon juice and again let it brew.
In order to give the paint a darker color, it is possible to add ground coffee into the mixture. The obligatory component, which is added at the very end is granulated sugar. It will help paint last longer on the skin.
Having identified with the part of the body on which the tattoo will be applied, it must be prepared. Get rid of hair and degrease the surface of the skin with alcohol or lotion.
In advance, select the pattern that will be applied to the skin. It is best to prepare a sketch template, cut from a thick film. If there is no stencil, the pattern on the skin can be pre-applied with a washable marker.
To apply tattoos from henna, you can use different methods and techniques. Perhaps, it is most convenient to apply the paint through a medical syringe without a needle. For small items, use toothpicks or matches. Also, if you want to fill large areas, use a bag with a small hole, through which the composition is squeezed out.
Do not remove the stencil, let the pattern dry. Remember, the longer the henna dries, the darker the tattoo becomes. After removing the stencil, gently shake off the remains of dried paint with a dry cloth. Fashionable tattoo is ready.
To ensure that your new decoration lasts to please the eye and cause envy of others, try not to rub this area of ??the skin with a washcloth in the first days, and also avoid direct sun rays, so that the picture does not
darkened
.