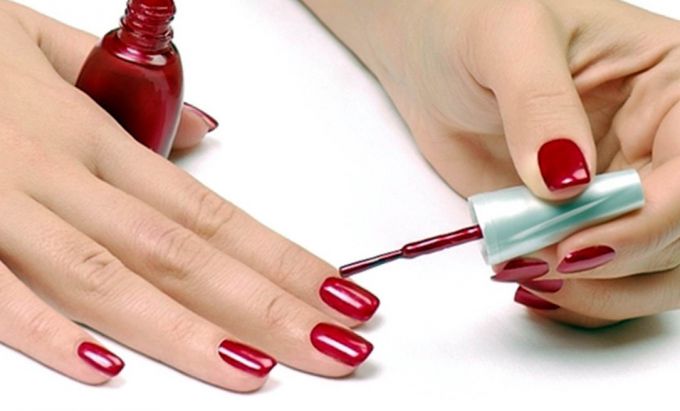 In the case where there is no time or money to visit the salon, it can help to color the nails at home. To make the manicure look neat, it is important to apply the varnish exactly and correctly.
First of all, it is necessary to make an even shape, remove or push away the cuticle.
The choice of used varnishes should also be given due attention. The better the product, the easier it will be to cover. Carefully before buying, you need to inspect the brush. It should be elastic, and the lacquer with it should drain a thick thread. If it is a drop, it is better to refuse to purchase such a product.
Those who can not make up their right hand, it is recommended to resort to a small trick and start with it, and then move to the left hand. It's amazing, but it actually works.
So, for smooth manicure should use the following scheme:
· Carefully inspect your fingernail, thoroughly clean from previous coating, degrease with a special agent.
· If there is a desire to make the surface perfectly smooth, to prevent the subsequent appearance of yellowness, it is worth using a transparent base coating.
· The first application of the varnish should begin slightly above the cuticle itself. A small droplet is placed and then stretched gently downwards with a brush. It is not necessary to type at once a lot of varnish.
· Next, place the brush where the first drop was, and draw the varnish first one at a time, then the other side of the plate. Do not be in a hurry, put pressure on the brush, otherwise you can smear varnish inadvertently.
· After the first coat has dried completely, the second layer can be applied. It will give color saturation and eliminate transparency.
· After the colored varnish dries, a special coating or drying will be required, which will reduce the total time of the manicure.
In the process of dyeing, you should prefer daylight or use a special lamp.
If suddenly the varnish has got on a skin or a cuticle, it is possible to erase it with a cotton swab soaked in a liquid for removal of a varnish. If this is inconvenient due to its thickness, for the same purpose use a special marker, which can be purchased in the department of manicure accessories.
Well, that's all the subtleties that will help to smoothly nail your nails.