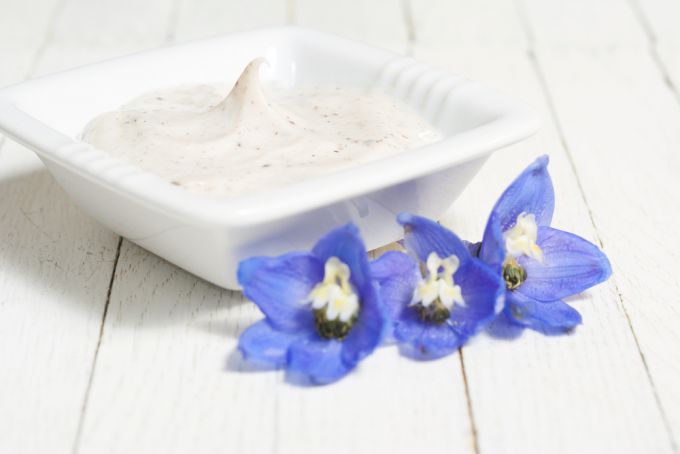 Facial skin needs regular nutrition. To do this, it is best to use home masks, made from natural ingredients. Such remedies will help to prevent withering and aging of the skin, make it healthy, and saturate with vitamins and beneficial substances. It is recommended to use nutritious face masks 2-3 once a week. Before starting the procedure, you need to cleanse your skin of dust, dirt and make-up with the help of warm water and mild detergents. Apply the mask neatly, evenly, try not to stretch the skin. Experienced cosmetologists advise removing the mask with a moist cotton swab or a little warm water. After the procedure, apply a suitable cream. First, determine your skin type, choose a suitable nourishing mask.
Prepare a nourishing mask for dry skin using natural honey. Thoroughly mix in a glass bowl 2 tablespoons of liquid flower honey with the same amount of pre-ground oat flakes. Then add 1 a tablespoon of brewed black tea without any additives. Uniform mass is applied to the cleansed face, hold 15-20 minutes, wash with water at room temperature.
It is not recommended to use masks with the addition of honey to people who suffer from an allergic reaction to beekeeping products.
Nourishing mask for irritated and sensitive skin is prepared as follows: one small potato tuber to boil to the full. Warm potatoes, add a couple of tablespoons of warm milk. In a separate bowl, whisk one egg yolk, mix with the mashed potatoes. Homogeneous mass is applied in a warm form on the face (you can also use the skin of the neck and decollete), avoiding the area around the eyes. After 20-25 minutes, rinse the mask first with warm water, then cool.
This home remedy is perfect for skin prone to irritation. It nourishes and refreshes the skin well, gives it firmness, smoothes fine wrinkles.
To prepare a nourishing mask for oily skin often use sour berries, vegetables and fruits. It not only perfectly nourishes, but also tightens the enlarged pores, normalizes the activity of the sebaceous glands. Take a half of sweet and sour apple, wash and peel from the skin and seeds. Rub it on a fine grater or chop it in a blender. Add to the apple slurry a teaspoon of potato starch and one egg white. Stir and apply the mixture on face, hold 20 minutes. Remove the mask is recommended water with the addition of lemon juice or boric acid. In the end, walk on the skin with an ice cube, apply a moisturizing cream.
If your skin has become wrinkled and flabby, in this case, a nutritious egg-honey mask is very effective. To cook it yourself, you need to mix 1 a tablespoon of quality liquid honey with one egg yolk. Add a teaspoon of glycerin (sold at the pharmacy), mix everything well. Apply to cleansed skin for 15 minutes. At the end of time, wash with cool boiled water (preferably use mineral water).
Для любого типа кожи подойдет морковная питательная маска. Среднего размера морковь помойте, очистите от кожицы, натрите на мелкой терке. Смешайте с чайной ложкой любого растительного масла и яичным желтком. При комбинированной или жирной коже можно добавить несколько капель свежеотжатого лимонного сока. Полученную однородную массу нанесите на 20 минут на лицо, смывайте теплой водой.