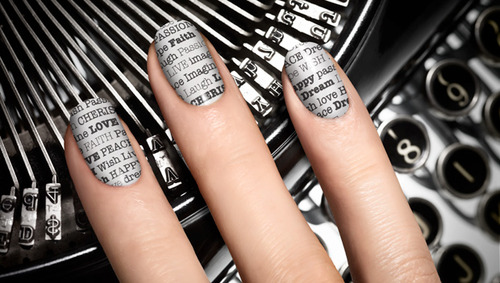 The idea of ??"newspaper" manicure arose in the head of a young Frenchwoman, and after quite quickly spread around the world, winning the hearts of outlandish women of fashion. This kind of manicure is quite feasible at home and does not require special knowledge and skills. However, it looks rather unusual and, of course, attracts attention.
You will need
-newspaper
lacquer base
-Solvent or liquid for removing varnish
-colored varnish
Instructions
Preparation: remove the old varnish from the nails, treat the cuticle and give the nails the desired shape.
Cut out pieces of 10 newspaper. Dimensions should be slightly larger than the nail, so that it is convenient after removing the newspaper.
We put on the nail lacquer base, let's dry a little, but not until the end.
We take a piece of newspaper, we drip on it with a solvent, apply it to the nail and gently press it. Please note that you should not move the newspaper to avoid spreading the ink. Now we are waiting for a couple of minutes.
Carefully remove the paper. If there was a small piece left on the nail, it's okay.
We cover the nail with a colorless varnish and let it dry.
Repeat the above steps with the rest of the nails.