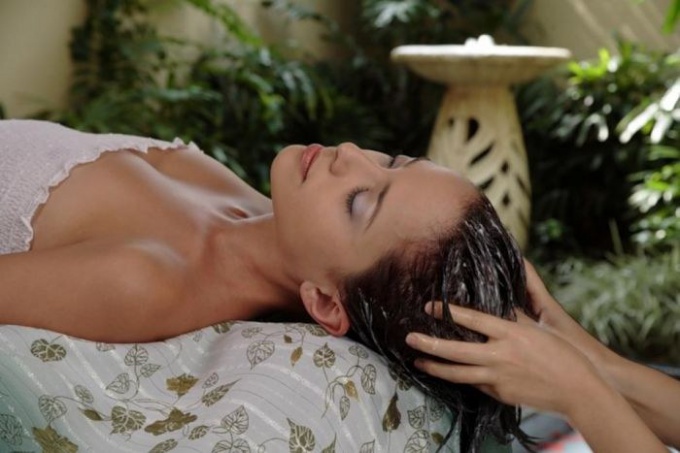 The environment and mechanical stress significantly impair the condition of the hair. Even healthy curls can turn into brittle and dry strands with regular use of a hair dryer, forceps or a prolonged exposure to the sun. Return the hair shine and strength can help the usual mayonnaise.
The use of mayonnaise for hair
Make a mask for hair from mayonnaise is very simple. There are several recipes that differ in the number of ingredients. The most useful components contained in mayonnaise are egg yolk, vitamin E and vegetable oil. These substances carefully handle each hair, giving the curls a shine and strength. Specialists also note the reducing properties of mayonnaise. Masks from this product prevent the appearance of split ends and hair loss.
When applying mayonnaise masks, you should pay attention to a few nuances. The mixture should be applied over the entire length of the hair and keep at least 30 minutes. Mayonnaise is best washed with shampoo. With ordinary water, you can not remove the remnants of the mask.
The mayonnaise mask is suitable for frequent use. You can use it for any type of hair. Enhance the effect of the mixture can be additional ingredients.
Mayonnaise masks for dry and brittle hair
To give strength to hair, use a mask from mayonnaise with the addition of mustard. For this, in a separate container, mix 50 g of mayonnaise and one tablespoon of mustard. Please note that mustard is better to use powder, previously diluted it with a small amount of water. Blend the mixture on the hair and rinse thoroughly with shampoo after 30-40 minutes.
To restore damaged hair, it is better to use a mask based on mayonnaise and essential oils of mandarin and rosemary. In 50 g of mayonnaise, add a few drops of additional ingredients and mix thoroughly. Blend the mixture over the hair and rinse it off in 30-40 minutes.
Mayonnaise against hair loss
Unlike other masks, the mixture from hair loss will have to be held on the hair throughout the night. In a separate container, mix one tablespoon of vegetable oil, two tablespoons of mayonnaise and one egg yolk. Mix all the ingredients in a homogeneous mass. Blend the mixture on the hair, wrap it with a normal food film and let it soak overnight. In the morning, wash the mask thoroughly.
How to make mayonnaise
If you wish, you can make homemade mayonnaise for masks. Note that this mixture will be much more effective than the product, which can be easily found on the shelves of food stores.
To make mayonnaise, you will need three egg yolks, a few teaspoons of olive or vegetable oil, one teaspoon of lemon juice, the same amount of salt and powdered mustard. Mix all ingredients thoroughly with a mixer or blender and use to prepare masks.