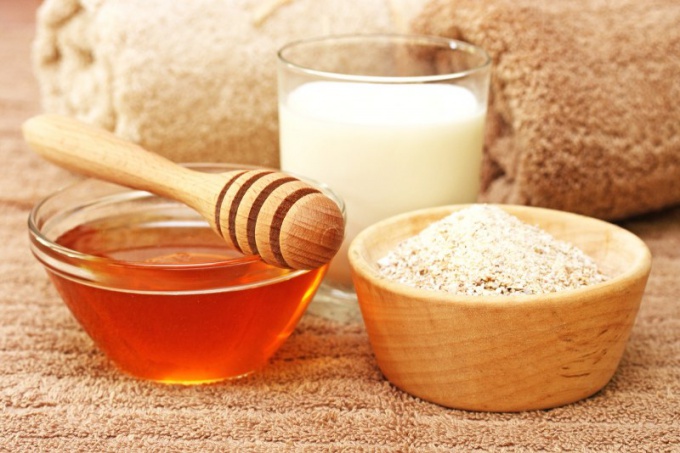 Milk and honey are products useful not only for eating, but also for cosmetic procedures. Based on these ingredients, you can make masks that help moisturize the skin, enrich it with vitamins and minerals, whiten, relieve wrinkles and acne. And also to strengthen hair.
Instructions
There are a lot of varieties of masks with honey and milk. It all depends on what effect you want to achieve. For example, for the fading skin the following procedure is suitable. 3-4 tablespoons of milk, warm to room temperature, and then stir with a spoonful of honey. Apply the mass on the face in circular motions. 10-15 minutes and rinse with warm water. However, it is not recommended to use such a mask for people with dilated vessels.
For dry skin, make a mask with milk, honey, oatmeal and olive oil. Spread a tablespoon of oatmeal flakes with a small amount of warm milk and cover with a lid. Minutes through 10, when the flakes are swollen, mix a spoonful of honey and a little olive oil with them. Hold the mask on your face for 15 minutes, then rinse.
To narrow the pores, normalize the fatty skin and moisten it, use this method. A tablespoon of milk at room temperature mix with honey, cottage cheese and lemon juice (these ingredients are required by a teaspoonful). Hold the mask on your face for 15 minutes and rinse with cool water.
In addition to facial skin, it is beneficial to milk and honey to affect the hair. Dry hair perfectly moisturizes the mask with white bread. In half a glass of warm milk, dissolve a spoonful of honey and a couple of pieces of white bread. Wait until the crumb swells well. Approximately one hour before washing the head, spread the mask over the entire length of the hair.
Fat hair will benefit from the following remedy. Spoon the honey and mix 50 g milk and natural yogurt until smooth. Spread the mask with damp hair and warm it with plastic wrap and a towel. 30 minutes and rinse.
Strength and shine hair will give another mask. 2 chicken eggs whisk in lush foam, then mix with a spoonful of honey and 100 g milk. The mixture is applied to clean, slightly dried hair. Wash it off in half an hour without using shampoo.
There is a mask to prevent hair loss, eliminate dandruff and general recovery. For its preparation, mix 200 ml of milk whey and 2 of a spoonful of honey. Hold the mask on your hair for 20-25 minutes, then rinse. For treatment, the procedure should be repeated 2-3 times a week, for prevention – 1 times in 2 weeks.