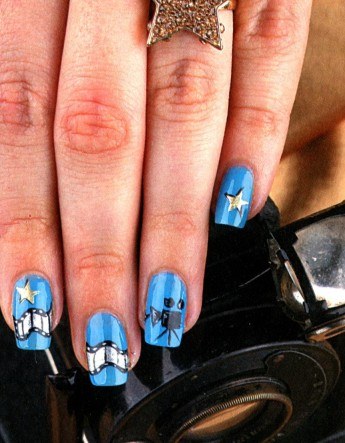 Often on the red carpet you can see an unusual manicure. Very popular among them is a manicure called "Kinomania".
You will need
– Blue nail polish
– Silver paint for nail design
– Gold paint for nail design
– Black acrylic paint
– White acrylic paint
– Clear nail polish
– Brush for work with varnish
– Brush for work with paints
Instructions
Prepare your nails. Clean the cuticle, apply a protective layer. Cover the nails with blue nail polish in two layers. Allow to dry.
Black acrylic paint on an unnamed nail draw a movie camera: a black square, a triangle – an objective, two circles at the top of the camera and three diverging lines at the bottom. On the middle and index fingers, mark the film: two parallel wavy lines connected by vertical ones.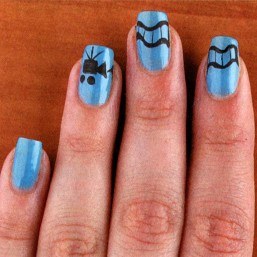 Paint the inner space of the film with silver paint. If you accidentally went beyond the edges of black paint, circle the contour again.
Using a thin brush with white acrylic paint, place the dots over the black lines of the film. Light strokes make highlights on the movie camera.
Gold paint paint paint
Star
on the little finger, forefinger and thumb.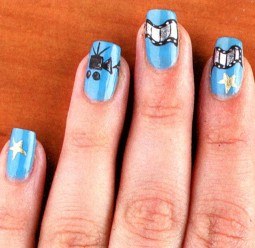 Circle them around the contour with black acrylic paint. Secure the design with a clear varnish.