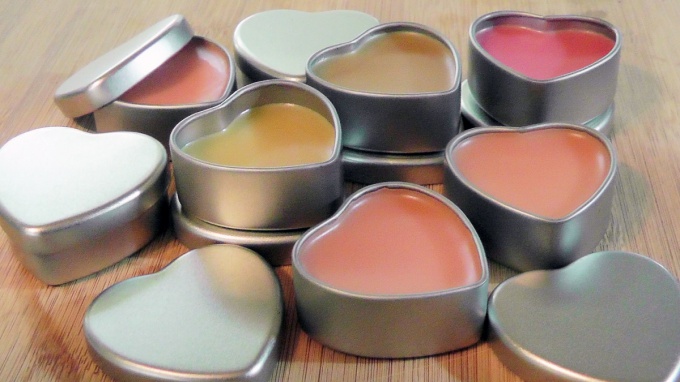 Adherents of the "green" way of life try to independently prepare not only bombs for baths and such trifles, but also cosmetics. The recipe for a hygienic lip balm is pretty simple and not too expensive – it should get even for beginners.
Many may have heard the popular opinion that purchased balms dry their lips, forcing the owner to apply the remedy again and again. Alas, the truth is there: in some hygiene lipsticks, dangerous substances that are addictive can actually be present. Especially you should beware of products containing phenol, camphor or menthol, as these ingredients lead to even more dryness, bringing only temporary relief. Also a big disadvantage is the presence of alcohol (usually labeled as "OL") and salicylic acid, which is added for better exfoliation.
Lip balm for home preparation will help not only to get rid of dryness, but also provide sufficient long-term moisturizing. In addition, unlike most store tools, it will not leave a feeling of grease or stickiness.
Ingredients:
· beeswax,
· Honey,
· Coconut oil,
· Vitamin E in capsules,
· Essential oil (optional).
Beeswax effectively protects from the effects of the environment and acts as an excellent moisturizer. But the most important thing in this recipe is that it is he who will give the balm a firm consistency.
Coconut oil does not cover the skin with an impermeable film, unlike oil based products. Fatty acids, which are part of it, moisturize the skin of the lips and promote cell regeneration.
Honey is rich in vitamins and beneficial microelements, it is a natural moisturizer and effectively cares for even heavily dehydrated lips.
Finally, vitamin E contains antioxidants and neutralizes the effect of free radicals that damage healthy skin and lead to its dryness.
You will need:
· Grated beeswax – 1 tbsp;
· Coconut oil – 1 tbsp;
· Vitamin E – 2 capsules;
· A drop of honey;
· A few drops of essential oil (optional).
The recipe for balsam is extremely simple. Melt the beeswax in the saucepan, start mixing the butter when half of the wax melts. Then add the remaining ingredients and mix thoroughly. Remove the resulting mass from the fire, pour into miniature jars or containers and put cool. After a few hours you can enjoy the resulting balm!