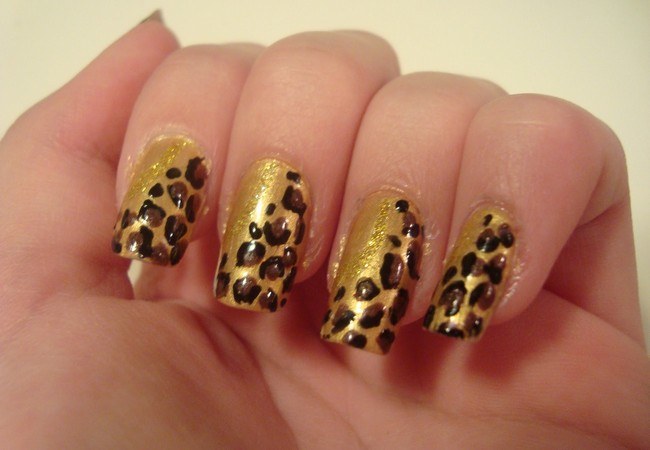 Leopard print for many years does not go out of fashion, he bought a huge number of fans. Those who lack leopard patterns in clothes and accessories can make this exotic pattern on nails.
To make a leopard pattern on nails, you need to prepare a lacquer 3-x colors – the main (preferably light), for specks (darker by several tones) and black for stroke spots, as well as conventional brushes and two thin brushes for drawing the pattern.
1. First you have to degrease your nails, then cover them with the lacquer of the main tone. Start better with the middle of the nail, and then apply the varnish around the edges. Dry the main tone, cover the nails with a second layer of the same varnish, dry;
2. To drop a little varnish for specks on a palette and to draw specks a thin brush, to give them well to dry. Do not try to make the shape of the picture the same and even – let there be different spots, this will give the picture an effect of naturalness;
3. Now you can outline the specks with black lacquer: drop a little varnish on the palette and draw a pattern along the outline with a thin brush. If the contour turned out not too smooth and a little "left" for the drawing, then the inner part of the contour can be filled with varnish for specks. Allow this layer to dry well;
4. To fix, apply a protective coating on the nails. To keep the manicure longer, apply a coating on the end of the nail – "seal" it.
The most courageous experimenters can try absolutely different combinations of colors for the base, specks and strokes – the number of options is almost unlimited, as is the variety of shades of varnish. There is only one recommendation – the main tone of the manicure should be lighter than specks, and the stroke should be dark. Otherwise it will not be a leopard drawing, but a fantasy on a free theme.
It is not necessary to achieve a complete similarity of the figure to the skin of a leopard – play with colors and tones to invent your own, unique version of manicure.
With the help of golden and silvery varnish it is possible to make a festive version of the leopard pattern on the nails.
It is not necessary to cover all the nails with this pattern – you can focus on one nail or cover the part of the nail with a leopard print.