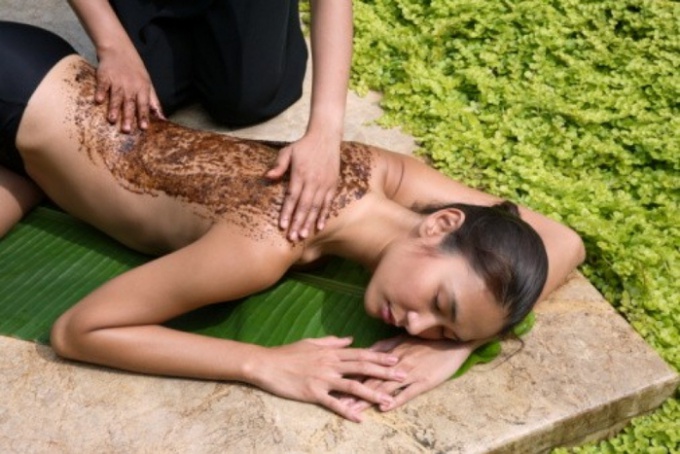 Honey has useful vitamins and minerals, and coffee – exfoliating effect – the effect of scrub, and together these components can improve your skin, remove excess water and remove cellulite, and help lose weight. Honey wrap for weight loss is very effective, and the recipe for this wrap is very simple.
You will need
– 2 st. l. honey
– 1,5 tsp. ground coffee
– 1 tsp. milk
– 0,5 tsp. red ground pepper
– food film
Instructions
Preheat honey to 40 degrees, pour in the milk, stir well. Add coffee and pepper to this mixture, mix well.
Take a dip in warm water, rub your problem well with a washcloth, until pink.
Once again, mix the mixture well, apply it on the problem skin, rub it gently, apply evenly.
Wrap a few layers of food film on the skin, where you applied a honey mixture for weight loss. Wind it neatly and not tightly to the skin.
Prepare a place where you will stay during the procedure. If it's a bed, then lay it, take 2-3 blankets, lay a comfortable pillow.
Having done all the necessary procedures for preparing a wrapping mixture, you can lie down. Lie comfortably, wrap yourself in all the blankets, well tucked them under yourself. During warming, do not stand up so that the thermal effect is not lost. Lying should be from 30 minutes, but not more than 1,5 hours.
After the procedure, remove the food film, rinse the entire mixture with warm water, but do not use soap. Also after you can
намазаться
moisturizing cream, since the skin has lost a lot of water and it needs to be moistened.
Having made a honey wrap, it is better to go to bed, so the skin calms down. Moreover, honey affects the body as soothing, so you may want to sleep or just relax.