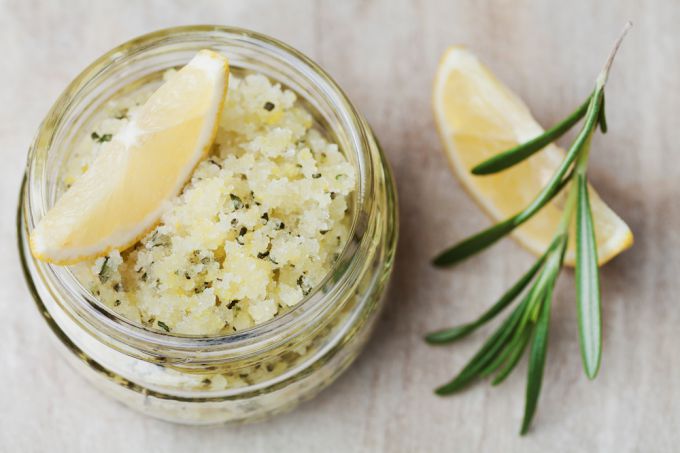 In any store cosmetics for the face and body you can find cute jars with a scrub for the face, body, legs and hands.
Of course, you can just buy this cosmetic or make a body scrub at home.
Приготовить скраб для тела своими руками в домашних условиях можно из простых и доступных компонентов, смешивая их по своему вкусу и добавляя, по желанию, сухие травы или эфирные масла. Например, чтобы приготовить coffee scrub for the body we need a coffee grounds from the spilled coffee or ground coffee, which will brew a small amount of boiling water (excess liquid will need to be drained). This will be the basis for scrub. Add to the coffee grounds can be sea salt medium grind. With this mixture, gently massage the moist skin, then rinse with water. It should be borne in mind that coffee is a fat enough product and leaves an oily coating of coffee on the skin. That is why it is necessary to wash off such a scrub very carefully.
Self-cook sugar scrubfor the body can be, using the most ordinary sugar. A couple of tablespoons of this product is mixed with half a tablespoon of vegetable oil and add 2 – 3 drops of your favorite essential oil. We mix the mass well and apply it on the wet body with careful circular motions, so as not to damage the skin. Immediately after application, scrub the scrub with warm water.
Very useful for the skin of the body is obtained oat flakes scrub. To prepare this product, take two tablespoons of oatmeal, pre-grinding them in a coffee grinder. Mix with a small amount of water until a thick slurry is obtained. With light massaging movements, we apply a scrub to the damp skin, after which we scrub with warm water. Before mixing with water, you can add to the oat flour grinded in a coffee grinder dry herbs: mint, chamomile and so on.
Honey mixed with salt and a small amount of vegetable oil is a real gift for the skin of the whole body. Massaging wet skin, applying small portionshoney scrub. Rinse off with warm water. By the way, honey in its pure form can be used as a scrub for delicate skin of lips. To do this, put a couple of drops of honey on the lips and leave it for 3 – 5 minutes, then wash the honey with warm water. After this procedure, the lips are smoothed, the cracks on the lips heal faster, and the skin becomes bright.
When choosing an aromatic oil for cooking home scrub for the body, you can use the following cheat sheet.
Essential oils anti-aging properties:anise, basil, orange, rose, carnation, carrot seeds, neroli, nutmeg, patchouli, petitgrine, rosewood, sandalwood.
Essential oils anti-inflammatory properties: cedar, bergamot, ayr, lemon, anise, bitter orange, verbena, geranium, ginger, lavender, rose, sandalwood, tea tree.
Essential oils anti-cellulite properties:orange, bergamot, cedar, grapefruit, ginger, cypress, cinnamon, lemon, mandarin, rosemary.