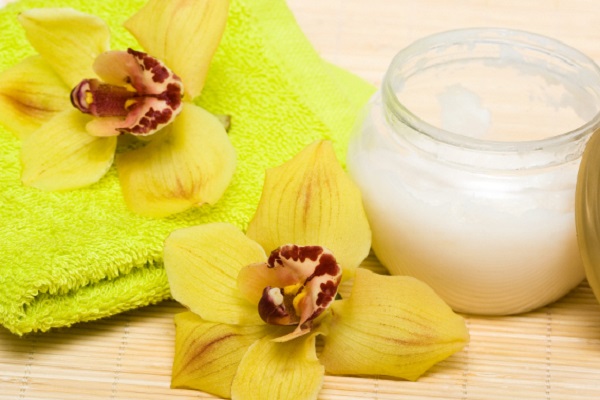 In shops a large selection of facial care products, but can you be sure of their usefulness and effectiveness? A home face cream has advantages over the purchased one. Therefore, arm yourself with the right components and do it yourself.
In the arsenal of a woman who follows her appearance, there must be a face cream. But even buying expensive skin care products does not always get the expected result. For those wishing to look well-groomed and young, maybe you will like a home cream made on the basis of natural oils. The recipe is reliable, tested by more than one generation of beauties. Almost all components of the cream contain oils, so it turns out slightly zhirnovaty, it is better to use at night.
Spermaceti are obtained from the fat of cetaceans, is sold as paraffin pieces. You can replace spermaceti cream or Kitalan (synthetic spermaceti). Despite the artificial origin, Kitalan has the characteristics of an animal spermaceti.
Petrolatum eliminates peeling, heals wounds, it contains vaseline oil, cesium, paraffin.
Lanolin anhydrous– a natural product derived from boiled sheep's wool. Used in fatty creams as an emulsifier. Lanolin nourishes and softens the skin, removes stiffness and peeling.
cocoa butter exclusively natural, get it from the grains of cocoa beans. Cocoa butter positively affects the skin, moisturizes and nourishes it, makes it supple and smooth. Widely used in cosmetics, in a face cream for home cooking will be very helpful.
Peach oil get from the kernels of peach bones, it contains the most valuable fatty acids, vitamins of groups E and B. Oil acts on the face skin as an antioxidant, therefore it is used in age creams. And what a nice gentle smell of butter gives the cream! In a home nutritious cream instead of peach it is possible to use any other cosmetic oil.
Дело осталось за малым: соедините все компоненты в равных количествах – питательный крем для лица готов. Так как он из натуральных продуктов и не содержит консервантов, долго не хранится. Делайте его небольшими порциями, примерно 20-25 грамм, наносите на ночь на лицо толстым слоем. Остатки крема храните в холодильнике.