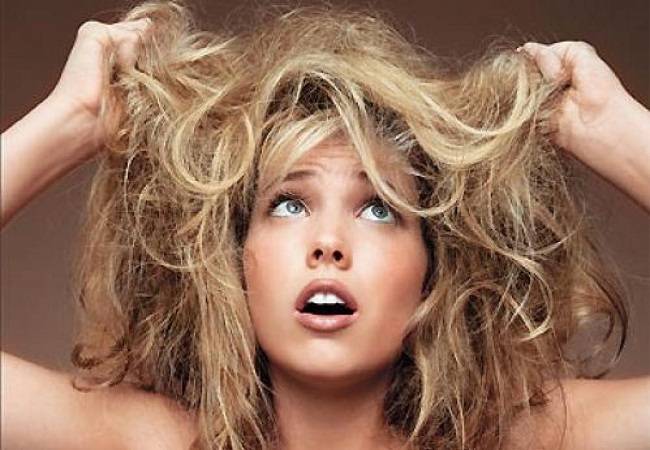 Many people are familiar with the situation when, after removing the cap on the head instead of a luxurious scattering of strands, something similar to a bird's nest is formed. In the cold season, the hair becomes more brittle and disobedient. How to keep your hair beautiful?
Refuse to synthetics
Choose a hat that includes natural materials, such as wool. Such caps neutralize static electricity, prevent dryness and subsequent loss of curls.
Less often use a hairdryer and ironing
Their aggressive effect promotes the drying of strands. Hair quickly lose volume, fade and break. With the onset of cold weather, styling with a hairdryer, curling iron or straightener is done only on special occasions.
Change care products
Buy a shampoo that moisturizes the hair and adds extra volume. This composition helps to maintain the shape of the hairdress under the hat, while smoothing the surface of the hairs. Do not neglect nourishing masks, sprays. In winter they are especially necessary.
Use a wooden comb
Metal or plastic when combing cause an additional "electric charge", which turns the hair into a hedgehog. Wooden combs with rare teeth remove superfluous static electricity, preserving the health of the hair.
Wash your head properly
For washing, use warm water, and rinse your hair cool. After washing, massage your scalp with your fingers. Cool water causes constriction of blood vessels, and massage increases the flow of blood to the head. As a result of the contrast effect, the nutrition of the hair bulbs and the appearance of the curls improve.
Do not completely abandon the headgear.Cool dry air causes vasoconstriction, disrupting normal nutrition and blood supply to the hair follicles. Entering the room, remove the headdress, so that the scalp does not overheat. Take care of the hair, then no frosts and hats will spoil your hair.