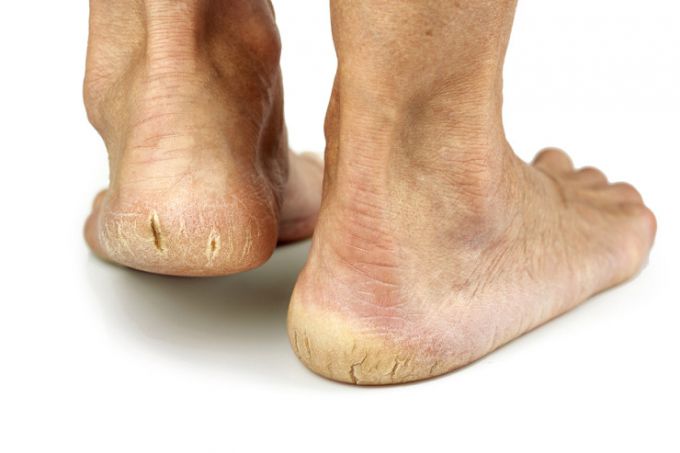 A huge number of people are faced with the problem of cracking heels. To get rid of this unpleasant phenomenon, you need to know how to heal cracks on the heels. It is also necessary to understand the causes of this ailment.
Why do heels crack?
The main causes of cracking heels:
dry skin;
excess weight;
low level of hygiene;
disturbed circulation in the legs;
dermatological diseases;
close shoes;
poor nutrition or too many vitamins.
The overwhelming number of people never try to find out the cause of the appearance of cracks, they are simply taken to treat them with creams and ointments, which is fundamentally wrong.
Folk recipes from cracks on the heels
Ointment from honey and fat:
2,5-3 st. l. fat;
1-2 st. l. honey.
Salo can be either pork, or other birds and animals. Melt it necessarily. Add honey there and heat on the water, and then pour into another container and allow to cool. Lubricate the heels for the night, then wear cotton socks. To achieve a good result, the procedure must be carried out every day.
Bath with salt and lemon:
2,5-3 l. water;
1,5-2 st. l. sea ??salt;
2-3 st. l. lemon juice.
Salt and lemon have a disinfecting effect and erase dead cells. Ointment can be applied after this bath.
Bath with herbs:
3-4 st. l. dried nettle;
3-4 st. l. dried flowers of calendula;
3 l. water.
Dry leaves and flowers should be filled with water, bring to a boil and allow to cool to room temperature. Such baths are made about once every two to three days, at 15-25 minutes. Afterwards, as usual, grease the heels with cream.
Compresses made from onions:
3 medium bulbs;
1 st. l. honey;
1 Art. l. vegetable oil.
Pre-chopped onion is mixed with honey and butter. Compress is applied to the heels, wrapped in a film, up-dressed cotton socks. For the first time it's enough to keep the mixture on your feet for about an hour or two, and then you can leave it for the night. After three or four applications you can already see a positive result.
Paraffin:
1 tsp. paraffin;
1 tsp. mustard oil.
It is necessary to melt the paraffin in water and mix with oil. This ointment should be used every day before going to bed and wearing cotton socks.
Correct foot massage.
Most often, the cause of cracks on the heels is the dryness of the skin, so it must be moistened with various oils designed for this purpose. Very good for these purposes is coconut oil, sesame. They are well absorbed and nourish the skin inside and out.
You can independently prepare this kind of carrot oil:
200 gr. carrots;
700 gr. sunflower oil.
In a jar of carrots, pour the oil and let it brew.
Always useful are broths of chamomile and calendula – these are good disinfectants, which will help the heels to recover and recover. To clean the coarse skin, you can use apple cider vinegar (dissolving it with water), and for healing – fresh cranberry and plantain leaves (put them in your toes and walk all day).