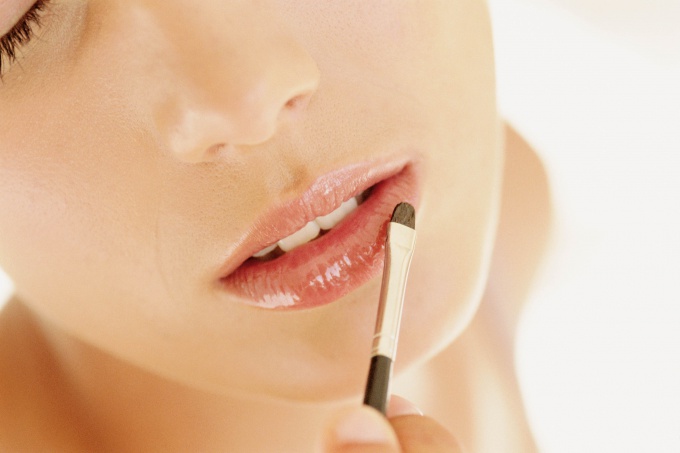 Lips with wet shine always look tempting and fresh. Of course, you can everywhere carry a lip gloss and apply it regularly to maintain a "radiance". But in any case, the basis of a beautiful make-up is a healthy, well-groomed skin of the lips.
Instructions
First of all, provide the body with enough water. 1-1,5 liter of clean water is the minimum required. Note that a significant amount of coffee and alcohol affect the liver and as a result lead to drying of the skin of the lips.
Eat healthy foods rich in vitamins A, E, C and B. These vitamins are beneficial for the skin in general and the lips, in particular.
Take care of yourself. Please note that stress, physical and mental overload, the transferred illnesses negatively affect the skin condition.
In situations with a sharp temperature difference (and
in winter
, and in the summer) more often put on lip protective and nutritious lipstick, it is possible simply hygienic. Be sure to do this before going out, after eating or drinking. Do not lick your lips on the street, especially in winter.
If you use decorative lipstick in the daytime, at least for the night, always lubricate the lips with natural vegetable oil. Suitable sunflower, olive, sesame, wheat germ. In them, you can add a drop of Aevita oil solution (a mixture of vitamins A and E). If you are not a fan of colored lipstick, you can use oil several times during the day. As a marching option is suitable
good
hygienic lipstick or usual children's cream.
Regularly massage the lips with a soft toothbrush or a terry cloth (1-2 times a week). This will help remove dead skin scales and improve blood circulation, which means that your lips will look more fresh and bright. But if you have cracks or wounds, postpone the massage until complete healing.
After the massage, make a nourishing mask, for example, from cottage cheese with cream or sour cream, you can add a little honey to it. At the end of the procedure, it does not even need to be washed off – just eat it. After the mask, lubricate with vegetable oil or fat cream. After such procedures, the skin looks smooth and moisturized.
If the lipstick is not very soft, apply it over the lip balm. Thus, you will better take care of
lips
, and lipstick will look more shiny. Remember that persistent lipsticks dry and tighten the skin, so do not get carried away by them.
Choose a lip gloss according to the sensations. It should not flow very much (although it will not be possible to avoid it altogether) and, ideally, not be felt on
lips
. Under the shine, too, you can apply lip balm, but not greasy, and moisturizing.
Чтобы избежать растекания, придать губам более естественное сияние и оптически сделать их более
complete
, визажисты рекомендуют наносить блеск не на всю поверхность губ, а только каплю посредине.