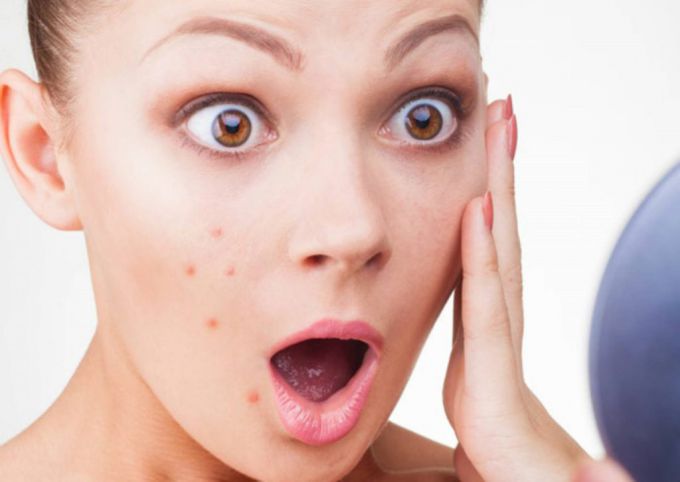 Expanded pores, wrinkles, pimples, redness – such small problems are haunted by almost every girl. No one has the perfect skin. Sometimes inconvenience is caused not only by skin problems, consequences can also cause discomfort. For example, after pryshchikov often dark or reddish spots remain on the skin. You do not have to worry, you can eliminate them yourself!
Using Masks
From the spots after the pimples will help the mask. For example, here's a recipe for a good clarifying mask: mix a spoonful of tomato pulp with the same amount of starch. Apply the formulation to the spots from the pimples, wash off after fifteen minutes.
Green clay paired with rosemary oil will also help get rid of the effects of acne. Mix the clay spoon with the rosemary oil, dilute it with water. Kashitsu put on the right areas of the skin, it is required to wash off in about fifteen minutes. Or just smear stains on the skin with rosemary oil, cucumber fresh juice.
Effective is a mask of egg white with lemon juice. You can try the composition of white clay, mixing it with lemon juice, water – the consistency should get a thick sour cream, so the number of components is taken arbitrarily.
You can use medical paraffin, it needs to melt and apply with a cotton swab on the stains. Then remove the frozen paraffin, lubricate the skin with a daily nourishing cream. This method is very simple and not at all costly.
Lotions
A lotion from St. John's wort will help a lot from stains, only it is prepared for ten days. A glass of alcohol pour in two spoons of dry St. John's wort, close the container with this compound. After ten days you can use this infusion to wipe the problem areas of the skin. Only alcohol dries the skin, do not forget to use a moisturizer. Perhaps, this tincture is not in vain called one of the most effective against acne scars.
And you can mix water with apple cider vinegar. This composition can be started on the next day! Store the finished lotion in a refrigerator in a tightly closed bottle for a maximum of a week.
If you did not manage to get rid of unattractive spots yourself or even had an allergic reaction, then contact a cosmetologist. There you will pick up professional peelings and masks, which will help to say goodbye to spots from acne!