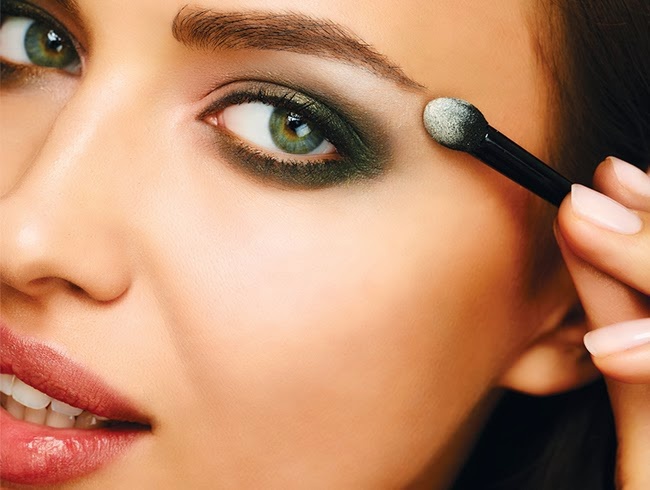 Makeup artists sometimes work wonders, creating incredible beauty makeup! But adapting to any girl can create a spectacular eye make-up. For ten to fifteen minutes, you can very strongly emphasize the eyes, making them attractive, expressive. Of course, much will depend on your true eye color – you need to select individual color and makeup for a specific color.
It is very important to choose the right colors for the type of skin. Yes, and quality cosmetics plays a big role. For example, a make-up pencil should be soft – it should not cling to the skin, the lines should turn out to be clear. Try first a pencil in the case – draw a line on the delicate skin – for example, on the wrist. If it turned out too pale, then choose another one. If your skin is oily, then it's better to take shadows. If the eyes have dry skin, take liquid shadows, shadows in the form of a pencil will do. In general, the choice of cosmetics is now very large – you need to choose and buy a quality product from proven and reliable brands.
Light shades will help you increase your eyes, so it is not superfluous to draw a pencil with light eyelids. Dark contours visually reduce the look. But with this, of course, add expressiveness. That's just a lot of girls use too much dark eyeliner – you get the effect of "panda".
Makeup should be selected depending on the type of eyes. For example, you have widely set eyes – then emphasize the outer corners with light colors, internal – dark. With the close arrangement of the eyes, it is better to do the opposite. To visually increase them, it is worth making a thicker pencil line on the border of the cilia. And reduce the large eyes will help dark shadows – they cover the entire upper eyelid. Bright, bright shadows are options for those who want to smooth out the effect of the impending age.
Even to create a beautiful make-up you need to know your color-type. For example, green eyes can really be made deeper and brighter due to the pink scale. Shadows are applied with a soft brush, choose for the rolling age the color of lavender, pink petals. The inner corners highlight a light shade – ivory, shimmering white. This color shade and the area under the eyebrows. The next color is caramel, hazelnut or milk chocolate. Apply it in the folds between the eyelids. The dullness will give the depth look. External corners highlight with purple shadows, shade them to impart a nebula. Apply a thin arrow with a pencil and use mascara.
Blue eyes underlined in shades of orange, yellow, light brown tones. Act, as in the case with the above make-up – there are only colors. Well, about the quality shading is not forgotten – this is the guarantee of a beautiful result.
For brown-eyed ladies this technique is also suitable. Only colors choose purple, blue. Move the mobile eyelid with lavender or lilac, outer corners – amethyst, iris, ultramarine. Then all the same – arrows, mascara.
Gray eyes can be called neutral. Many colors suit them. You can take shadows for a couple of shades darker than your pupils. Dark gray, brown or blue eyeliner will help emphasize the natural beauty of seroglosses.
As you can see, to emphasize the eyes with the help of make-up is quite simple – you just need to pick up your colors and learn how to apply cosmetics properly. And this comes with experience!